Exchange programme for students in social (educational care) work, education & health care
Does the complexity of urban areas intrigue you?
Are you moved by urban issues such as poverty, super-diversity and liveability?
Interested in a crossover between social work, education and healthcare? And a student in one of these fields?
Eager to develop your international competencies and network?
Feel like studying in an international classroom?
And working on real-life cases while developing your creative and critical thinking skills?
Then study Crossing Borders (30 ECTS) in Antwerp!
What to expect?
Crossing Borders is an exchange programme designed for tomorrow's professionals in social work, education and health care. They often work on cases where an interdisciplinary insight into the various areas involved could provide added value. 
Focus: challenges caused by urbanisation
Organised by the faculties of Applied Social Studies, Teacher Education and Health Care of the Karel de Grote University College, Crossing Borders focuses on challenges caused by urbanisation.
Students in this exchange programme explore urban challenges:
How can we cope with transcultural issues in health care? How do we assure sustainable housing and access to health care in urban areas?
What are successful strategies to deal with growing diversity and multilingualism in education?
How do welfare services respond to growing poverty and people in disadvantaged situations?
Interdisciplinary and transcultural approach
These new urban challenges ask for an interdisciplinary and transcultural approach. 
Our students focus on super-diversity, poverty and liveability. In a safe and small-scale setting, Crossing Borders students and teachers will actively engage in dialogue and exchange thoughts and ideas.
This will help them to look beyond the limits of their own disciplines and frames of reference. Field visits further enable them to dive into the urban reality that is Antwerp. 
The programme is offered in the spring semester.
All modules are taught in English.
Course overview
Curriculum Crossing Borders (30 ECTS):
Crossing borders ID: 6 ECTS (mandatory for all students)
Migration & super-diversity: 4 ECTS
Poverty: 4 ECTS
Gender & sexuality: 4 ECTS
Ethics & human rights: 4 ECTS
Urban health challenges: 4 ECTS
Urban challenges in education: 4 ECTS
Extracurricular: Dutch Foreign Language level A1 
KdG offers free Dutch language courses for all exchange students:
evening classes 
at campus Groenplaats, in the centre of Antwerp
Extracurricular: English Language Room at the KdG
A language service is offered to all Crossing Borders students who are interested in improving their English.
Students are provided with digital content, exercises and workshops about reading, listening, writing and speaking in English.
Besides classical instructions, students can ask for individual assistance.
Why study Crossing Borders?
Top-notch programme and experienced lecturers
Interdisciplinary approach to urban challenges    
Develop your critical thinking
Practice-oriented
Focus on dialogue and exchange of ideas
Situated in the diverse and dynamic city of Antwerp
Big city, but small-scale setting. With a lot of individual attention and coaching
International classroom: a mix of international and Belgian students
Active student network
Free Dutch course
Coach English language
Liveability and sustainable housing
When?
Spring semester only, running from the end of January until the end of June.
The 'Welcoming days', organised for all incoming students, are the start of our programme. We will send you a detailed programme once you've registered.
Your campus
All classes on one central campus, unless stated otherwise.
Campus Zuid
Brusselstraat 45
2018 ANTWERP
+32 3 613 18 00
info@kdg.be
Easily accessible by train, tram, bus, bicycle, scooter ...
With our own cozy coffee bar
Student restaurant in food market style
Lots of study places
Study in Antwerp, Belgium
Home to more than 44.000 students and around 170 nationalities.
Antwerp is a safe, diverse and welcoming international student city.
Situated on the River Scheldt, this mini metropolis is a gateway to the world.
A perfectly located economic hub steeped in history, and always evolving.
Brussels, Amsterdam, Paris and London all within easy reach.
Atypical Antwerp, the movie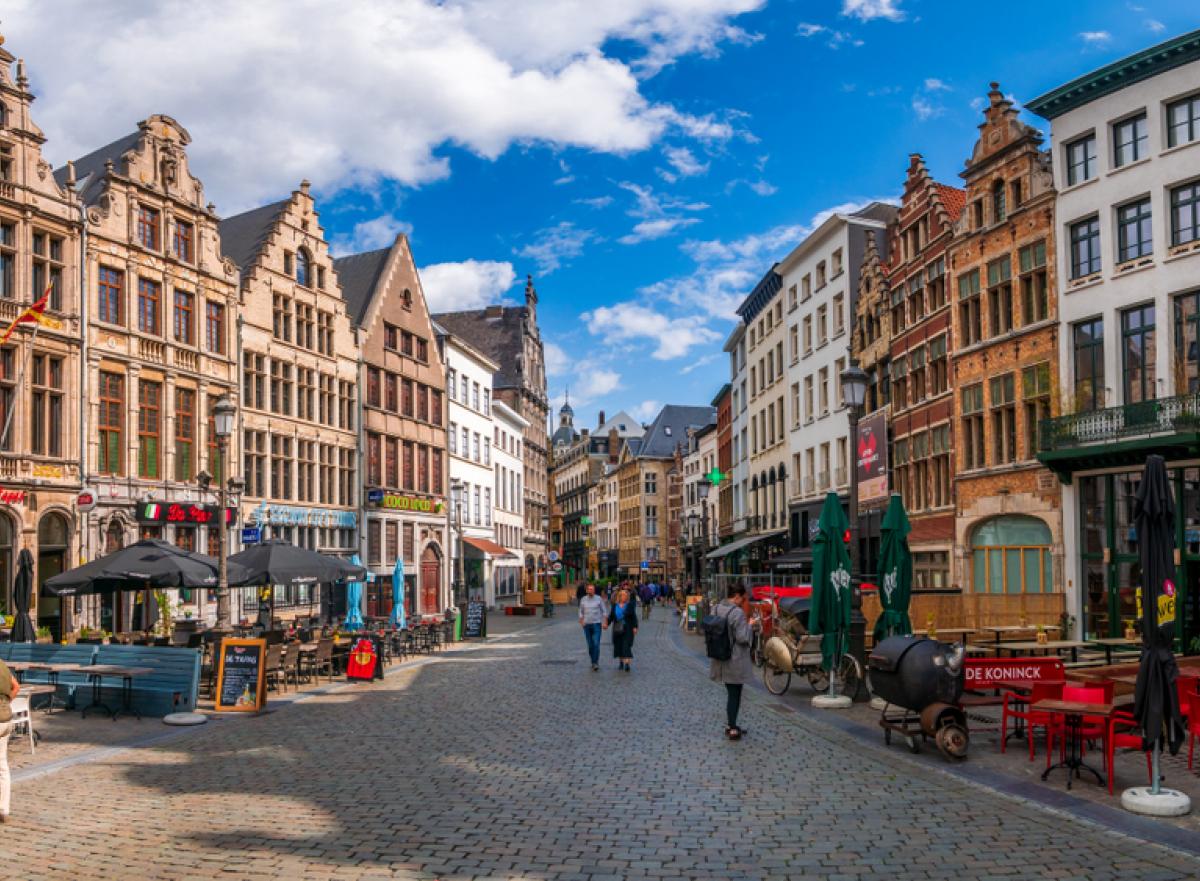 Apply
English language requirements
As the entire programme is taught in English, you should master the English language sufficiently to participate actively in the courses. Level B2 is strongly recommended.
If you are not proficient enough in English, there is always the risk of failing assignments or examinations. This is entirely the responsibility of the sending institution.
Karel De Grote University of Applied Sciences and Arts offers English language support to all Crossing Borders students. Students are provided with digital content, exercises and workshops about reading, listening, writing and speaking in English. Beside classical instructions, students can ask for individual assistance.
You can also study English (or other) languages at the language centre of the University of Antwerp. For applications and fees, please contact Linguapolis directly.
Who can apply?
The subjects are open to all students in the fields of healthcare, social work and teacher education or a related study field
Both international and KdG students can enrol in the programme.
How to apply and register?
Ask your International coordinator to send your nomination to our international coordinator Annemie Versweyveld: international.crossingborders@kdg.be (nomination form provided by KDG International Office/KDG Exchange).
When you are accepted, you will receive an e-mail confirming your nomination, and containing a link to your application.
Soon after your registration, you will receive another e-mail with your KdG e-mail address, password and registration number.
Later on, in the next step, you will receive an e-mail with a link to Mobility Online. That is an online tool where you can complete the rest of your application (using your registration number and password) and upload the necessary documents.
In Mobility Online, each step will be checked and approved by the exchange officer of Crossing Borders at KdG. The application is complete when you enter the level: [AI] Exchange confirmed by KdG. All steps have to be completed before arrival.
More questions?
Application deadline
Nomination deadline Autumn semester: 1 May
Nomination deadline Spring semester: 1 November
Got a question? Ask an exchange student!
You will receive a fair answer, given by an experienced student. 
It's very easy, via Facebook.
Why KdG?
Antwerp, Belgium – everything close by

International classroom – mix of local and international students

Real life – all hands on deck during project work

Strong network – partnerships with benefits for everyone

Happy students – numbers don't lie. Join the community!