Minor of the professional bachelor Multimedia and Creative Technologies
Does your heart starts beating faster upon hearing the words entrepreneurship, ground-breaking multimedia and imagery? Expect the unexpected!
Open to students in Multimedia, Industrial Sciences & Technology and Business Administration and Commercial Sciences or in a related field
Get inspired by our mix of creativity, technology and entrepreneurship and let curiosity take over
Get triggered to start your own project!
Study in an international classroom: a perfect introduction to an international career.  
You will be guided through this programme by highly skilled professionals and dedicated teachers
Language? English spoken
And….. free classes Dutch language!
When? Autumn semester only
What to expect?
This programme is presented to you by the faculty of Science & Technology and is open for all students in the field of Multimedia, Industrial Sciences & Technology and Business Administration and Commercial Sciences or in a related field.
Creative Technologies & Entrepreneurship offers a fine selection of courses of the professional bachelor Multimedia and Creative Technologies, a degree programme entirely in English. Therefore, classes will be attended by both international degree students and exchange students, thus creating a real international experience.
We offer a crossover of three domains: Entrepreneurial attitude, Technical digital skills and Creative thinking.
As the world is rapidly changing, companies are eagerly searching for skilled people, young urban potentials, ready to take on the world. This course will give you the chance to refine your creative, technological and entrepreneur skills.
Mandatory composite courses
Digital Media Production
(
10 credits
)
The following courses are centered around the topic of Digital Media Production. These courses are interrelated and mandatory. 
In this cluster we offer two courses in which you acquire skills and knowledge (Camera & Content Creation + AV Postproduction). In the third integration course, you will perform an authentic assignment where the things you have learned come together nicely. As an extra, you will also learn to cooperate, self and project management, dealing with customers, ...
2.1 Camera & Content Creation/ Digital Media Production (3 credits)
An image (and sound recording) says more than a thousand words. You tell stories with a camera and microphone. One day on the street in the middle of a big city, the next in a green key studio, and then again just behind your laptop. You find the right audiovisual form for every story to be told and are only satisfied with strong content!
2.1 AV Postproduction/ Digital Media Production (3 credits)
You get to work with image and sound recordings that have already been made. Your habitat is the editing cell. You will therefore master a multitude of post-production tools; Adobe Premiere, Audition and After Effects will hold no secrets for you. You make sure that beautiful raw images become top quality and you know how to improve recordings that are not ideal. Fix it in post!
2.2 Integration Project Tech & Entrepreneurship (4 credits)
You will be given an authentic customer assignment where you will create a commercial together with them.
Technology & Entrepreneurship (Start up your Start Up)
(
10 credits
)
The following courses are mandatory and focus on technology and entrepreneurship
 2.2 Proof of concept/Tech & Entrepreneurship (3 credits)
You learn how important desk research is in the development and substantiation of a (media and entertainment) concept, product, or service. Trough theoretical lessons, examples, and individual and group assignments, you learn different search and processing strategies to find existing information (such as literature, trends, data, research, etc.) and test it for relevance. You learn how to interpret and process that existing information critically and correctly (for example in a paper). You will learn what plagiarism is and how to correctly apply the APA reference style.
We go through all steps in the research process: determining the research objective and questions and drawing up a research plan, choosing the appropriate research method, collecting and processing data, and reporting the results.
2.2 Online marketing essentials/Tech & entrepreneurship (3 credits)
After taking this course, you will know the basics of social media marketing and can apply them in practice. You can work with Google Analytics to draw conclusions in order to optimize online marketing. You'll know the functioning of online acquisition (SEO, SEA, email marketing, display, ...) and can formulate an SEO advice.
Behold the online opportunity: the evolution of the web, the evolution of the customer journey, online marketing vs traditional marketing, the conversion funnel, STDC framework , the GDPR.
Work on: content creation: copywriting & image creation for the web.
Integrate social media marketing: strategy, tactics & analysis.
What about Email Marketing?
How to be found? The basics of SEO.
How to advertise? SEA, display, YouTube & social advertising.
How to analyse? Google analytics.
2.2 Integration Project Tech & Entrepreneurship (4 credits)
Create your own startup! Think of a product or service that you will put on the market. You pit for a jury of investors, will you get your funding?
New Technology – What's NxT?
(
5 credits
)
Do concepts like Internet of Things, Smart Cities and Wearables tickle your fancy? Are you always curious about the latest or are you simply visionary? Do you want to be a pioneer in the Media Technology sector? Then NxT Technology is all about you. You go in search of the NxT big thing. You will visit companies, start-ups and incubators. You go to conferences, festivals and meetups. You crave knowledge and want to be ready for the new (digital) world. You do this by scouting for new technology both online and offline. In this profession, you eat, sleep and drink new technology.
Prototyping
(
5 credits
)
You can turn an idea into a working model with sensors, actuators, intelligence in embedded systems, smartphones, and you are a real maker. You tinker with mechanics, housings and integrate the electronics and peripherals into a beta version.
New Product Development
(
5 credits
)
This course will give you a holistic view of the new product development arena and will help you gain specific knowledge in how to select, plan, monitor and control a new product development project, using the proper tools and techniques.
You will familiarize yourself with the 8 stages of new product development process: Idea Generation, Idea Screening, Concept Development and Testing, Business and Marketing Strategy Development, Product Development, Test Marketing, and Commercialization.
Motion Graphics
(
5 credits
)
For this course we expect prior knowledge in graphic design.
Prepare graphics and illustrations for animation. You'll work with existing designs (logo's, maps, icons, ...) and self-made illustrations. Be basic principles of animation. You'll move the separated parts of your designs on screen. You will learn the basic principles of Motion Graphics on the basis of short individual assignments.
Once you have mastered it, you can choose the techniques and methods you prefer to work with. In this way you compile a portfolio of smaller screen graphics and slightly more extensive projects over the course of time. This portfolio can look different for each student depending on your choices and focus.
In this course you can also make motion graphics in consultation with the teachers to clarify projects from other (optional) courses with moving graphics.
Dutch Foreign Language level 1A
(
3 credits
)
KdG offers free Dutch language courses for all exchange students:
Evening classes 
Courses take place at the Faculty of Management & IT at Campus Groenplaats, in the center of Antwerp
You can choose whether you would like to do the course for credits (thus part if your learning agreement) or without credits.
Dutch as a foreign language Level A2 (for German speaking students)
(
3 credits
)
KdG offers free Dutch language courses for all exchange students:
Evening classes 
Courses take place at the Faculty of Management & IT at Campus Groenplaats, in the center of Antwerp
You can choose whether you would like to do the course for credits (thus part if your learning agreement) or without credits.
Instructions for selection of the courses
You have to take a minimum of 20 ECTS and a maximum of 35 ECTS.
The programme is composed of two mandatory composed courses:

Digital Media Production (10 credits)
Technology & Entrepreneurship (10 credits)

You can choose freely between the following electives (all 5 credits) in order to have a full programme.

Dutch as a foreign language (3 credits) is offered at 2 levels. A2 is offered for German speaking students and A1 is for all other students.
Focus?
What to do after you are graduated? Better be prepared!
That is why we focus on employability. What do employers expect? What competences does a young graduate need to start a job as a multimedia/marketing or audio-visual professional?
Be social, for one, and start networking. How? We'll provide you with all the necessary tools.
Be a problem solver! How? We'll present test-cases.
Become a team player! How? You will study amidst young ambitious people from all over the world. Dialogue is key to successful multicultural business relations.
Are you up for it?
You'd better be! At the end of this course, you will shine with pride, not only because you will have refined your multidisciplinary competences (programming, write a business plan …), but you will also be triggered to start your own company. Anywhere in the world: this course is the perfect introduction to an international career.  
You will be guided through this programme by highly skilled professionals and dedicated teachers.
RideThatBike: an application that records the number of kilometres you ride on your bike and rewards you for them. 
Bosbus: an experience on wheels for meetings and brainstorm sessions.
YouCan: a refund system empty cans and bottles.
For whom?
Everyone who has a background related to the field of Multimedia, Business Administration and Commercial Sciences or Industrial Sciences and Technology, is welcome. Photography or graphic design (just to name two), … this way please.
All modules are open to Belgian students as electives.
English language requirements
As the entire programme is taught in English, you should master the English language sufficiently to participate actively in the courses. Level B2 is strongly recommended.
If you are not proficient enough in English to participate actively in the courses, there is always the risk of failing assignments or examinations. This is entirely the responsibility of the sending institution.
Students can take English (or other) language lessons on their own expense in the language center of the University of Antwerp (Linguapolis). Applications and fees are to be arranged directly with Linguapolis.
When?
Autumn Semester 2023
Welcoming Days: 13 - 15 September
Start classes term 1: 18 September
Deadline changes LA: 6 October
Half term holidays (1 week): 30 October - 5 November
Examinations: 6 - 10 November
Study week: 13 - 17 November
Start classes term 2: 20 November
Seasonal holidays (2 weeks): 25 December - 7 January
Examinations: 15 - 26 January
End of semester: 26 January
Farewell event: To be decided
Where
You will study at our Campus Hoboken, the faculty of Science & Technology at the south of Antwerp.
You will have classes at the Campus Hoboken, the fablab at Campus Hoboken, our studios at campus Sint Jozef and Campus Zuid.
The campus enjoys excellent bus and tram links, and the Antwerp South train station is just a short ride away.
Study in Antwerp, Belgium
Home to more than 44.000 students and around 170 nationalities.
Antwerp is a safe, diverse and welcoming international student city.
Situated on the River Scheldt, this mini metropolis is a gateway to the world.
A perfectly located economic hub steeped in history, and always evolving.
Brussels, Amsterdam, Paris and London all within easy reach.
Atypical Antwerp, the movie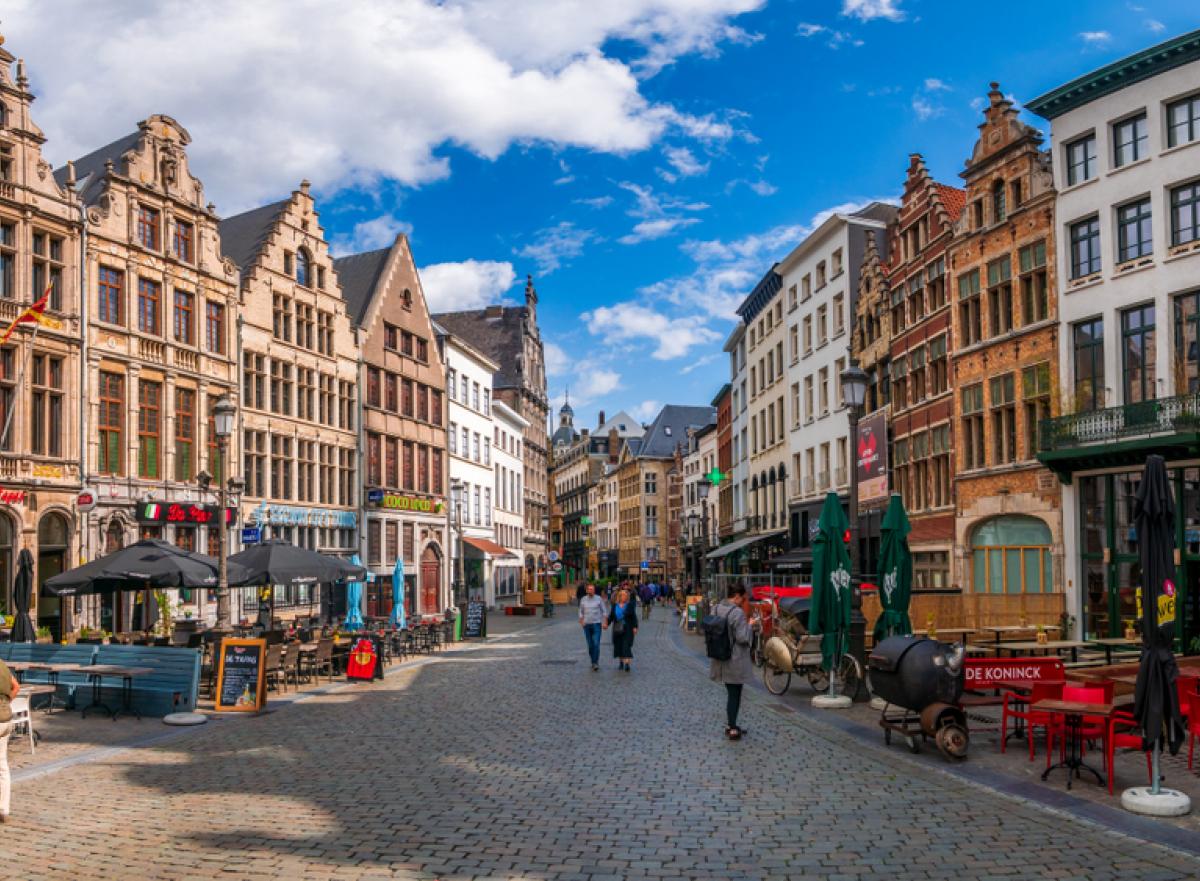 How to apply?
Ask your home institution to communicate your nomination to our international coordinators (per study field).
When you are accepted, you will receive an e-mail confirming your nomination and a link to our online registration and course selection.
When your courses have been approved by KdG, you will receive the link to Mobility Online where you can complete the rest of your application.
Deadlines  
Nomination deadline: 1 May
Application deadline: 30 June
Got a question? Ask an exchange student!
You will receive a fair answer, given by an experienced student. 
It's very easy, via Facebook.
Why KdG?
Antwerp, Belgium – everything close by

International classroom – mix of local and international students

Real life – all hands on deck during project work

Strong network – partnerships with benefits for everyone

Happy students – numbers don't lie. Join the community!