Exchange programme: minor of the professional bachelor Multimedia & Communication technology
Does your heart starts beating faster upon hearing the words human- technology and creative thinking?
Get inspired by our mix of technology, interaction and creative thinking
Study in an international classroom: a perfect introduction to an international career.  
You will be guided through this programme by highly skilled professionals and dedicated teachers
Open to students in Multimedia Studies
Language? English spoken. And….. free classes Dutch language!
When? Spring semester only
What to expect?
This programme is presented to you by the faculty of Science & Technology. This is your chance to create and design.
Writing interesting and compelling narratives.
You will draw on different technologies such as the Internet of Things, Artificial Intelligence and Augmented Reality to find solutions to real-life challenges.
User experience and Interaction are key to everything you do in this semester.
Creative Technologies & Interaction offers a fine selection of courses of the professional bachelor Multimedia & Creative Technologies, a degree programme entirely in English. Therefore, classes will be attended by both international degree students and exchange students, creating a real international experience.
Mandatory: Business & Interaction
10 credits - topics entrepreneurial attitude, technical digital skills and creative thinking
Creation and Strategy
(
3 credits
)
This course is about making a brand attractive, sustainable and value-driven. Building, strengthening or boosting the image of a brand to get it out of a slump and arm it with the same tools as the big players. Thinking up creative and strategic solutions to Growth Hacking. You will learn all these things in this profession. You start from a Design Thinking approach and devise solutions tailored to your customers.
You give brands a boost by making them stand out and flourish in a smart and strategic way. You learn the basic principles of Reputation Management and can apply these to existing or new brands so that they can outshine their competitors
Immersive Marketing
(
3 credits
)
During this course you will look into the preparation of a marketing plan according to 6 steps. You will use the dynamic of a Marketing Plan and align it with the corporate planning of a company.
During the teaching moments, concrete cases are used to practice parts of the theory in preparation for your project Business and Interaction.
Integration Project 2.3
(
4 credits
)
During the project, you'll have to integrate all the different theoretical modules related to this cluster on Business and Interaction.
By using different branding models you will be developing a brand strategy for a real client.
You will work in an international, multidisciplinary team with students from two other European schools.
In the course of this project, you may get the opportunity to travel abroad to one of the partner schools for an intensive project week. This is not compulsory to pass the project.
Mandatory: Generated Mixed Media
10 credits - topics user experience and interaction
3D Animation
(
3 credits
)
In this course you will get a more in-depth knowledge of the animation possibilities in your 3D software:
You manipulate supplied 3D models in function of polygon flows, making materials, rigging and animation and bring them to life according to learned techniques in the used 3D software
You build and test the rigs of the supplied 3D models.
You create an animation for a more complex 3D problem, related to rigging and physics.
3D VFX
(
3 credits
)
In this course you will integrate new 3D content into recorded real-life film content. This requires not only that the 3D materials used and camera positions be adjusted and merged with the life footage into a coherent end result, but also that the overall lighting of the 3D model should match the life footage very carefully.
The final post-production (basic colour grading, special effects,...) takes care of the finishing touch.
Integration Project 2.4
(
4 credits
)
During the project, you will integrate all the different theoretical aspects related to the entire course 'Creation and Experience'.
In a 3D production it is essential to decide which parts are best done in 3D and which part would rather be done in post-production (2D/2.5D). You will have to combine real-life video footage with 3D content, to get a seamless integration between both techniques. At the end, you will have to produce and deliver a small animation, where you combined a 3D animation into moving video footage, with correct materials, lighting and camera positions
Electives
Optionally complete your programme by choosing electives
Integration Skill WEB-UX-UI
(
5 credits
)
During this course you will improve you research skill and compare and review different tools. You will conduct user testing based on wireframes
Further, you will analyze functional requirements to create an architecture and user journeys.
You will apply your web knowledge and use nocode tools/platforms to create real websites and/ or applications from the wireframes you made
Technical Skill Real Time 3D
(
5 credits
)
In this course you work on the creation of a basic real-time 3D game with a focus on:
Game engines
Preparation of the 3D content, with the optimization of given 3D models, by working towards low-poly models, good unwrapping and compact texturing, and making of basic animations to integrate in your game
Creation of a user-friendly user interface
a good game play and user experience of your game
Dutch as a foreign language
(
5 credits
)
Trendwatching
(
5 credits
)
In this course you learn how to do trend research and to identify trend manifestations. Further, you will translate trend(s) into innovative application possibilities, services and/or products. Based on your own trend analyses, you will design and present communication proposals (such as a blog, paper, podcast, vlog, etc.) applied to a relevant sector of your choice.
Instructions for the selection of the courses:
We accept min. 20 credits and max. 33 credits per semester.

The programme is composed of two mandatory composite courses:

Business & Interaction

Generated Mixed Media

Further a selection can be made of one/more electives.

Read the prerequisites that are mentioned in each course description very carefully. Without this preliminary knowledge, students can't participate in the course.
For whom?
All students enrolled to Multimedia Studies or a strongly related study field studying at one of our partners schools can apply.
You have prior knowledge in programming.
If your school does not have a partnership within the study field multimedia, please ask the coordinator at your international office to contact us.
English language requirements
As the entire programme is taught in English, you should master the English language sufficiently to participate actively in the courses. Level B2 is strongly recommended.
If you are not proficient enough in English to participate actively in the courses, there is always the risk of failing assignments or examinations. This is entirely the responsibility of the sending institution.
Students can take English (or other) language lessons on their own expense in the language center of the University of Antwerp (Linguapolis). Applications and fees are to be arranged directly with Linguapolis.
When?
Spring Semester 2024
Welcoming Days: 25 & 26 January
Start classes term 3: 29 January
Deadline changes LA: 19 February
Half term holidays (1 week): 12 - 17 February
Examinations: 25-29 March 
Seasonal holidays (2 weeks): 1 April - 12 April
Start classes term 4: 15 April
Examinations: 10 - 21 June
End of semester: 21 June
Farewell event: To be decided
Where
You will study at our Campus Hoboken, the Faculty of Science & Technology in the south of Antwerp.
You will have classes at the Campus Hoboken, the fablab at Campus Hoboken, our studios at campus Sint Jozef and Campus Zuid.
The campus enjoys excellent bus and tram links, and the Antwerp South train station is just a short ride away.
Study in Antwerp, Belgium
Home to more than 44.000 students and around 170 nationalities.
Antwerp is a safe, diverse and welcoming international student city.
Situated on the River Scheldt, this mini metropolis is a gateway to the world.
A perfectly located economic hub steeped in history, and always evolving.
Brussels, Amsterdam, Paris and London all within easy reach.
Atypical Antwerp, the movie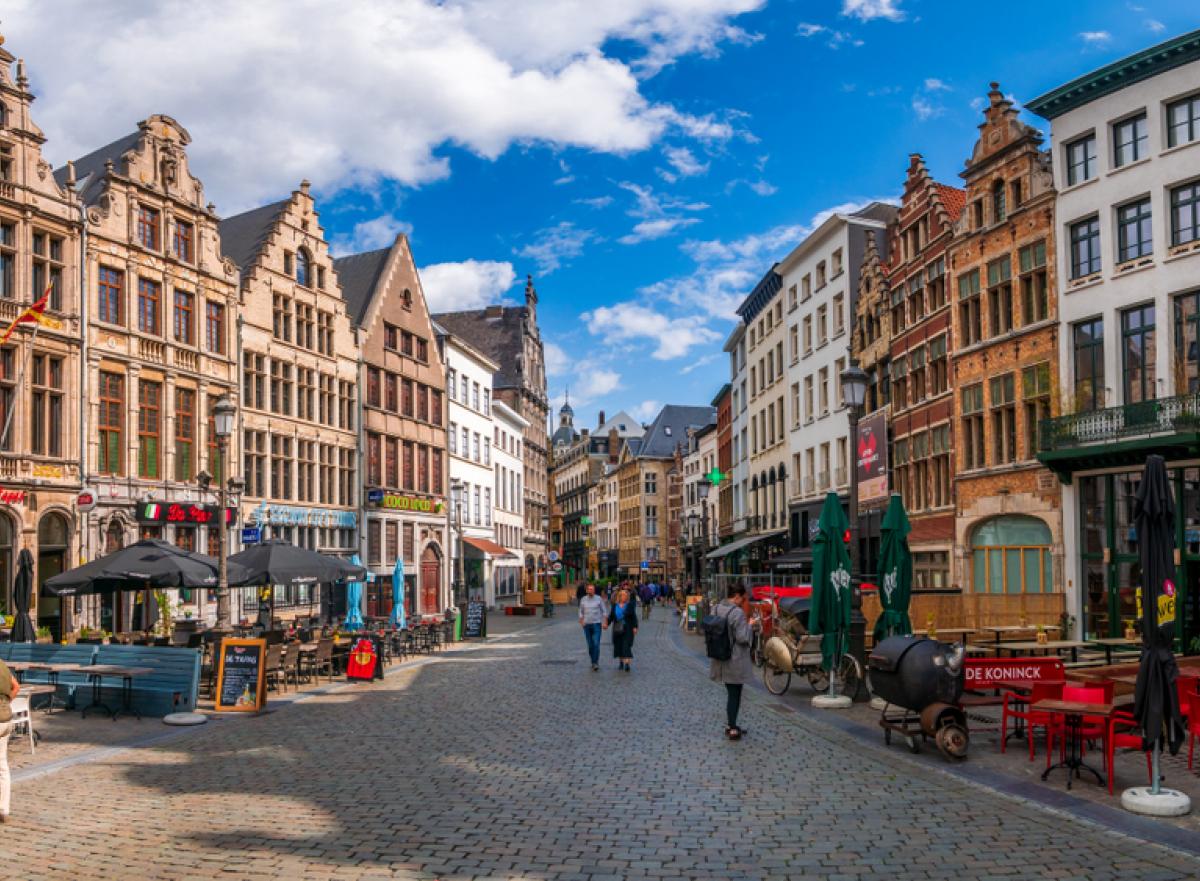 How to apply?
Ask your home institution to communicate your nomination to our international coordinators (per study field).
When you are accepted, you will receive an e-mail confirming your nomination and a link to our online registration and course selection.
When your courses have been approved by KdG, you will receive the link to Mobility Online where you can complete the rest of your application.
Deadlines Spring semester
Nomination deadline: 1 November
Application deadline: 18 December
Got a question? Ask an exchange student!
You will receive a fair answer, given by an experienced student. 
It's very easy, via Facebook.
Why KdG?
Antwerp, Belgium – everything close by

International classroom – mix of local and international students

Real life – all hands on deck during project work

Strong network – partnerships with benefits for everyone

Happy students – numbers don't lie. Join the community!