Professional bachelor of Multimedia & Creative Technologies
Learn how to bring technology and business strategy together, bridge the gap between challenges and solutions. Become someone who makes a difference.
Unlock the potential of the digital world and get creative in our FabLab with virtual reality, prototyping, robotics, 3D, web & app-development…
At KdG you'll work together with companies and organisations on real-life projects.
Study together with international colleagues who inspire.
Get career-ready during a three-month internship abroad.
Entrepreneurial? You can pursue your own start-up. You've got our backing.
Choose your own direction – from technical innovator to project manager to business owner.
Communicate, collaborate and cross borders on this unique English-taught programme.
Launch your career into the digital world.
What does this course contain?
Course in brief
You will develop a range of technical skills, become a strategic communicator, and get practical experience in finding solutions to help you shine in the fast-paced world of new media.
First Year
See what it takes to become a digital nomad - use technology to your advantage and work from anywhere in the world.
Experiment with a range of technology in our FabLab: programming, arduino, virtual reality, 3D modelling, development and animation.
Learn webcoding, graphic design and storytelling as part of your introduction to visual media.
Focus on digital marketing and build an interactive website using HTML, CSS and Javascript.
Work on integration projects each semester. These consolidate your skills in every area.
Second Year
Focus on concept development and strategy. Learn how to bring groundbreaking new concepts to market.
Create digital 3D content with a clear focus on the experience of the end users. Bring a model to life!
Use Future Design Thinking to understand what it takes to be an entrepreneur.
Continue to tick each box with an integration project per semester to bring all your skills together.
Collaborate on a project with students from other universities and visit local companies and organisations to learn about the latest digital solutions.
Third Year
Focus on your international career perspectives taking a close look at trends in your preferred industry sector.
Specialise in prototyping, motion graphics and game design.
Use your skills on an innovation project and bachelor project of your choice. Or opt for a start-up venture. Either way, get to pitch in front of a professional panel.
In your final year, you take control and the teaching becomes coaching. Your focus will really be on-the-job experience. A 16-week placement is going to open up your future:

You can apply for student entrepreneur status and if successful pursue your own start-up under the guidance of our professional coaches.
Courses and credits
NxT Entrepreneurship for Digital Nomads
(
12 credits
)
You will familiarise yourself with the essential tools needed for a digital nomad: 
Science, technology and society: Our seminars and workshops will focus on fundamental technological, philosophical, sociological and ethical concepts. Listen, learn, and exchange ideas. Take a lateral approach, develop your critical thinking and broaden your outlook.
Intercultural communication and intercultural teamwork: Globally-minded professionals bring a broad skill set to the table. We will grow your confidence, teach you to appreciate differences of opinion, help you find common ground and recognize when a compromise is the way forward.
Entrepreneurial essentials: We concentrate on brainstorming, producing lean business models, and teaching you how to pitch and manage your time efficiently.
Creative gaming
(
12 credits
)
Get your first taste of basic programming, the principles of graphic design and storytelling. Create a simple storyboard for a game and learn about the use of digital tools for visual communication.
Interactive Media Design
(
12 credits
)
You will work as part of a team discovering the possibilities of digital marketing. Start by building your first interactive websites using HTML, CSS and Javascript. Master different storytelling techniques, and explore the principles of UX/UI design to ensure the web browsing experience is user friendly.
Virtual and real-life makers
(
12 credits
)
Set up your own design and development strategy, and work with microcontrollers to turn your concept into reality. During this project, you will immerse yourself in our FabLab.
Use sensors and small motors to make setups, enabling your model to perform a variety of tasks – grip, move and pick up things. Build digital 3D models, and bring them to life using 3D prints, laser cutting, animated film, or your own virtual environment.
Walking as a virtual nomad
(
12 credits
)
Virtual reality transports people to new places and brings a new dimension to familiar surroundings. This project sees you create your own virtual experience.
Deepen your understanding of real-time 3D applications. Learn how to import 3D models, embed video recordings and animations, and programme interactivity. Then bring them to life with lighting, sound and visual effects.
Creation and experience
(
10 credits
)
As a digital strategist, you need to generate workable ideas that meet specific customer needs. In this module you will create digital 3D content with a clear focus on the experience of the users. Working in teams of two, you will build interactive and virtual experiences for specific clients. Compelling storytelling is key.
Technology and entrepreneurship
(
10 credits
)
Technological progress has given us the means to optimise the way we live and work, from developing and refining microchips and sensors to testing new wireless communication technologies.
In this project you will experience life as an entrepreneur, using Future Design Thinking to tackle a societal challenge. Devise an innovative technological solution, while we help you grasp the basics of entrepreneurship. Then develop your concept into a viable start-up, ready to pitch to a panel of potential investors.  
Business and interaction
(
10 credits
)
Work in a creative agency-like environment, create bleeding-edge experiences, stay at the forefront of innovation and drive consumer engagement with new immersive advertising.
Find out how multimedia is used in different settings – combining different forms of media to reach your audience and build brand recognition.
Research and prototyping project
(
10 credits
)
Choose your own research topic featuring at least one interactive, digital or technological component. Experiment, explore new materials, methods, and disciplines to demonstrate you have grasped the latest NxT media technological developments.
Becoming a digital strategist
(
10 credits
)
Ever considered how large companies bring radical, groundbreaking innovations to market? Or how entrepreneurs turn an idea into a viable business? Or perhaps you want to know more about innovation management and entrepreneurship?
Choose two from the following electives:
Online marketing essentials
New product development
New technology – what's NxT?
Principles of game design
Motion graphics
Digital storytelling
Summer School in consultation with the programme coordinator
Creativity and technology of the future
(
10 credits
)
Advance your STEM skills in line with developments in the engineering and tech industries. Here creativity is key.  
Choose two from the following electives:
Digital storytelling
Summer School in consultation with the programme coordinator
Motion graphics
Innovation project
(
10 credits
)
This is your final project before embarking on your internship or start-up venture. It is time to showcase your knowledge acquired during the last two years. You can either choose your own topic or one provided by our own business contact.
Business ethics
(
5 credits
)
Build your understanding of business ethics and learn how to spot ethical challenges within different types of organisations.  Explore how globalisation and increased digitalisation impacts business ethics.
International career perspectives
(
5 credits
)
Focus on your preferred industry sector as a future career by analysing the international multimedia market. What are your strengths? And how will you use them to build your digital portfolio and CV? 
Becoming a digital strategist
(
5 credits
)
Choose one elective from:
Business modelling
Communication - foreign language
Crowdsourcing
Growth hacking
Summer school
Creativity and technology of the future
(
5 credits
)
Choose one elective from:
Creative front end development
Digital media production
Interaction design
Trendwatching
Summer school
Bachelor thesis
(
15 credits
)
Choose between your own StartUp or an Internship
StartUp
(
15 credits
)
Budding entrepreneurs pitch their business proposals to our panel of experts. Only those who achieve student entrepreneur status are given the go-ahead to use the internship to pursue their own venture.
Internship
(
15 credits
)
You will spend 16-weeks abroad, working in a company of your choice and designing a digital transformation strategy that works for them. International students can choose an internship in Belgium, since they are already abroad.
International study exchange
If you want to broaden your outlook, you can choose to spend your first semester at a European university or one further afield. If you opt for this exchange programme, it will replace the Innovation project, Business ethics, International career perspectives and elective modules.
FabLab
A space where you can experiment, innovate and share knowledge. Here, Multimedia & Creative Technologies students swap ideas with students from automotive technology, biomedical laboratory technology, business management, teacher training and art school.
You name it, you'll find it – audiovisual equipment, input devices, 3D scanners and printers, laser cutters, electronics instruments, computers with design software and hand tools to materials such as plastics, cork, sensors and actuators…
What does your schedule look like?
The Welcoming days are from 13 to 16 September 2023 and attendance of these is essential.
Your classes will then start from Monday, 18 September.
You commit to a fulltime study program over three years. This means that you are advised to allocate up to 40 hours per week to your study, of which approx. 18-20 hours are classes.
Normally you can expect 1 to 1.5 day per week free which allows you to work on group projects with your colleagues.
Each week is varied combining a mix of lectures, seminars, team assignments and self-study.
We emphasise the importance of being on campus together with your colleagues. Here, you can take advantage of the technology provided and get the hands-on experience and collaborative experience demanded by the Multimedia sector.
Have a look at the class schedule.
Year 1 students demo their first project
What makes Multimedia & Creative Technologies at KdG so interesting is just how broad the approach it; instead of focusing on one specific area we are encouraged to dip into all different kinds of media.
Lisa-Marie
Student Multimedia & Creative Technologies
Costs
The main programme-related costs are:
85 euro annually for an Adobe Creative Cloud account (discounted rate – normally 60 euro a month)
A laptop that meets required specifications 
There may be additional costs for coursebooks but this depends on which electives you choose
Laptop requirements
Our campuses are equipped with the latest technology so all you need is your own laptop that meets these specifications:
Screen diagonal: minimum 15"
Processor: Intel Core i7 or AMD A10
Internal RAM memory: minimum 16GB
Storage capacity: minimum 256 GB (of which 128 GB SSD or flash)
Graphics card: dedicated
Count on a maximum of €75 of software per year. As a KdG student, you get a discount on software from Adobe, Academic Download, Academic Box and Academic Computing.
Requirements
This course is taught in English. Good proficiency in English is required.
You hold a secondary education certificate that grants access to a comparable higher education degree programme in the country it was granted.
No interview or additional tests are required for admission to KdG.
There is currently no restriction on the number of places
Our programme requires curiosity, a strong will to use all of your talents, a readiness to explore, to learn and to perform in an international team.
Your profile
Technically-minded – you're fascinated by new digital breakthroughs.
A creative ideas person. You want to design a website, develop a 3D prototype.
Hands-on. You'll experiment with technology in our FabLab.
You want to explore and discover how creative solutions can help businesses and organisations.
You seek freedom of choice: to choose your own career path in a creative role; whether as an entrepreneur or essential team player.
And to work from anywhere! Could you become a digital nomad?
Are you:
Self-motivated and goal-driven?
Someone who enjoys working in a team, on projects?
Open-minded and inspired by an international environment?
Ready to be the best you can?
Then KdG is here for you!
I love that I have so much freedom. For me, the multimedia projects feel less like assignments and more like creative outlets.

Theofania
2nd year student
Study in Antwerp, Belgium
Home to more than 44.000 students and around 170 nationalities.
Antwerp is a safe, diverse and welcoming international student city.
Situated on the River Scheldt, this mini metropolis is a gateway to the world.
A perfectly located economic hub steeped in history, and always evolving.
Brussels, Amsterdam, Paris and London all within easy reach.
Atypical Antwerp, the movie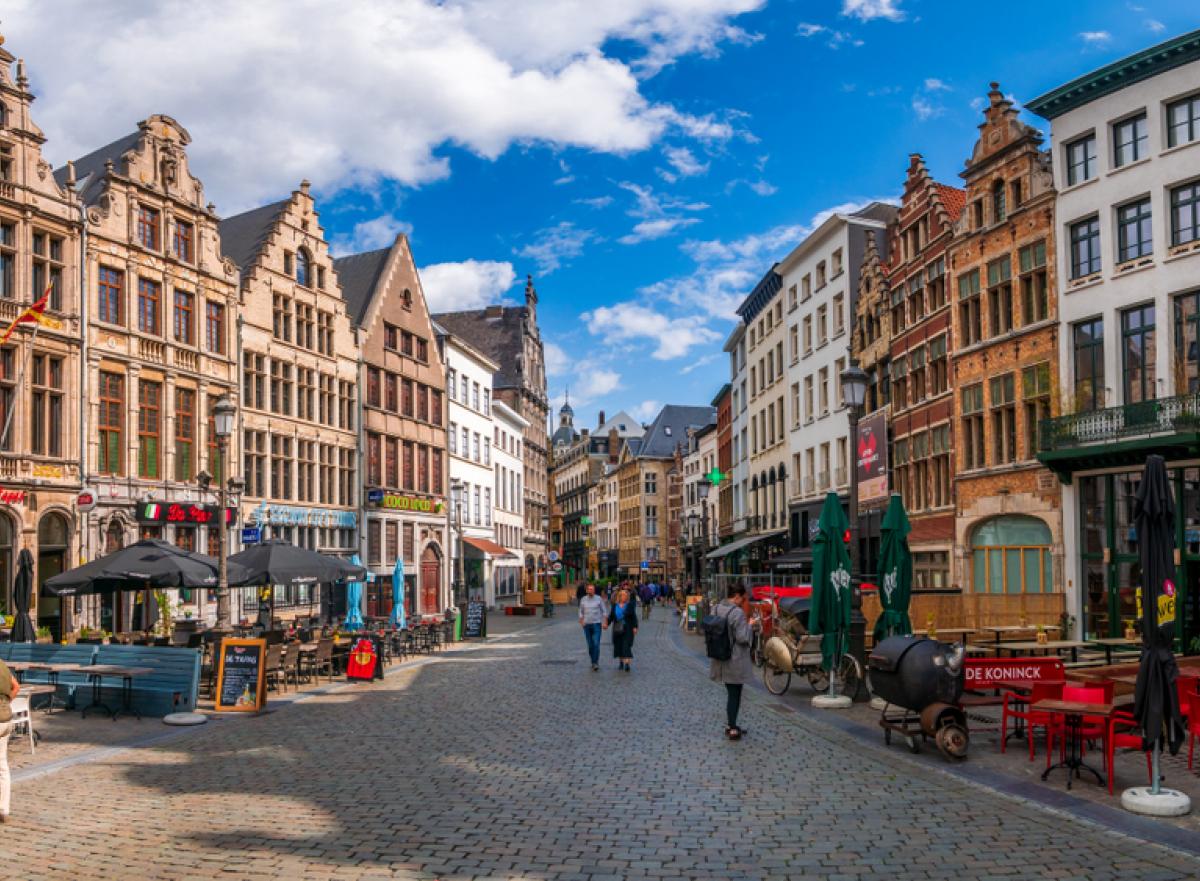 Your campuses
Your lectures are split between the Faculty of Science & Technology at Campus Hoboken, and Campus Zuid.
Drop into the library for some quiet study time or group work, or relax in the cafeteria and catch-up with course mates.
The campuses enjoy excellent bus and tram links, so getting into the city centre is straightforward. On-site parking is available at Campus Hoboken.
After Graduation
Multimedia & Creative Technologies is all about getting you ready for your career.
You will deliver creative solutions for businesses.
Possible careers include digital strategist, innovation manager, growth hacker, digital transformer, creative technologist, interaction designer, digital product designer and project manager
Entrepreneurial? Why not launch your own digital start-up?
You can take your studies further with a master's degree in digital business, media management, digital design, design thinking, creative technologies, or visual arts.
Whatever you choose, you'll have the skills to forge your own career path and make a difference. With an international degree, you can do this anywhere in the world.
Practical information
Pre-arrival guide (visa, proof of solvency, accommodation, cost of living, insurance…)
Arrival guide (city registration, welcoming days, student services…)
Chat with a student
Get an insider's take on student life. Chat with Theofania (student Multimedia & Creative Technologies) about the reality of being a student in Antwerp.
Join us at an open day
Open day 9 March 2024
Saturday 9 March 2024 from 10:00 till 16:00 in Antwerp
Quality education you can count on
As a KdG student you can be sure of a high-quality education at our dynamic university.
Your teachers are experts in their field, passionate about helping you to develop your potential.
KdG is an accredited university: quality guaranteed on an international level.
A detailed management system is in place to systematically review every degree programme.
KdG's goal is sustainable development: of students, staff and society. We consistently strive to get the best out of everyone.
And by so doing, we help to shape a better future.