Professional bachelor of Applied Computer Science
Specialise in all aspects of artificial intelligence like machine learning and neural networks – train to be a developer
Get the whole package: technical scope, solution-oriented training and soft skills sought by the IT sector.
Apply your skills on integrated projects.
Be prepared for future technologies – what's happening now and what's coming next!
Get expert coaching, and regular feedback so you can really see your progress and learn by doing
Work your way up from junior professional to the board of directors through our international company simulation.
Benefit from KdG's extensive network, working with international companies and organisations.
Boost your industry credentials and employability with an eight-week internship working for an international company in Belgium or abroad.
You can also follow this programme in Dutch.
What does this course contain?
Course in brief
Welcome to the rapidly-evolving world of computer science, where we always look to the future. We help you to develop the specialist technical knowledge, ideas and the business know-how needed by today's programmers and developers.
Year 1
You will be introduced to programming, artificial intelligence, data science, networks, systems and hardware.
Learn how to apply the skills you have learnt on one project per semester, under the guidance of expert mentors.
Focus on socially-relevant themes and deliver sustainable solutions. 
Simulate working for a company. You start out this year as a junior professional, learning business management and intercultural communication.
Year 2
Build on all your skills with continued infrastructure learning including scripting, security and encryption.

Take a closer look at AI and more complex programming.

Your projects this year will include agile development and testing.
Continue with your real-life company simulation getting to grips with project management and coaching.
Year 3 
A focus on future technologies in your third year gives you an insight into the latest IT developments.
Your integration projects this year incorporate application lifecycle management and test driven development.
Courses and credits
Infrastructure
(
12 credits
)
Includes: computer architecture, operating systems, networking, scripting, Arduino
Programming
(
12 credits
)
Includes: basic concepts, object-orientated programming in Java, HTML, CSS, JavaScript
Data and artificial intelligence
(
12 credits
)
Includes: SQL databases, data management, data science with Python, data modelling, machine learning
The company
(
12 credits
)
Develops: business management and intercultural communication skills as part of a company simulation
Integration project
(
12 credits
)
Includes: analysis and design with UML, version control with Git
Infrastructure
(
6 credits
)
Includes: operating systems and scripting, security and encryption, virtualisation, containers and cloud computing
Programming & architecture
(
18 credits
)
Includes: design patterns, web technology, Spring, layered architecture, testing, application security, REST
Data and artificial intelligence
(
12 credits
)
Includes: data storage, No-SQL databases, computational complexity, business intelligence, data visualisation, reinforcement learning, deep learning
The company
(
12 credits
)
Develops: coaching, sales and project management skills as part of a company simulation
Integration project
(
12 credits
)
Includes: agile development, testing and continuous integration
Artificial intelligence
(
12 credits
)
Includes: natural language processing, computational linguistics, information retrieval, AI in gaming, AI and future technologies
Programming
(
12 credits
)
Includes: microservice architecture, messaging, front-end development with React, framework/API development
The Company
(
6 credits
)
Develops: strategic insight, managing corporate performance and leadership skills as part of a company simulation
Integration project
(
6 credits
)
Includes: application lifecycle management, test driven development
The lab
(
9 credits
)
Includes: trends and future technologies
Internship
(
15 credits
)
Get on-the-job experience working for an international company for eight weeks.
What does your schedule look like?
The Welcoming days are from 14 to 16 September 2022 and attendance of these is essential.
Your classes will then start from Monday, 19 September.
On average you will have 22 hours of lessons per week.
Normally you can expect 1 to 1.5 day per week free which allows you to work on group projects with your colleagues.
Each week is varied combining a mix of lectures, seminars, team assignments and self-study. Have a look here at the  class schedule and an example course timetable
Have a look at the class schedule and example course timetable
What do you need?
Your own laptop that meets the specifications below. If you need to replace your old laptop, we recommend that you wait until you start the programme. That way, you will have a clearer idea of what you require.
Laptop specifications
Screen diagonal: no preference
Processor: minimum Intel Core i5, preferably i7
Internal RAM: minimum 16GB
Hard disk storage capacity: minimum 512 GB
Graphics card: no specifications
VGA port: desirable but not strictly necessary
Operating system: free (Windows, Linux or Mac), but certain programs are only available for Windows
Possibility of booting ('starting')  from a CD or USB stick; It must be possible to install Linux natively (UEFI needs to be able to turn off 'Secure boot')
Wi-Fi specifications: it is best to choose a device with an 'A' (for example 'Wi-Fi A', 'Wireless A', 'Wi-Fi AC', 'Wireless AC'). These network cards can handle both 2.4 and 5GHz.
For whom?
Your profile
Logic puzzles intrigue you. A strong spatial reasoning and an eye for discerning patterns, mean you can rattle off a sudoku or game of Tetris with ease. You remain unfazed when it comes to problem-solving – it is a chance for critical and creative thought and conveying complex ideas, simply.
Requirements
The course is taught in English, so a good level of language proficiency is required.
You hold a secondary education certificate that grants access to a comparable higher education degree programme in the country it was granted.
An open mind, strong motivation and a goal-oriented approach.
Curiosity, with a readiness to explore, a desire to use your talents as well as perform as part of an international team.
Study in Antwerp, Belgium
Home to more than 44.000 students and around 170 nationalities.
Antwerp is a safe, diverse and welcoming international student city.
Situated on the River Scheldt, this mini metropolis is a gateway to the world.
A perfectly located economic hub steeped in history, and always evolving.
Brussels, Amsterdam, Paris and London all within easy reach.
Atypical Antwerp, the movie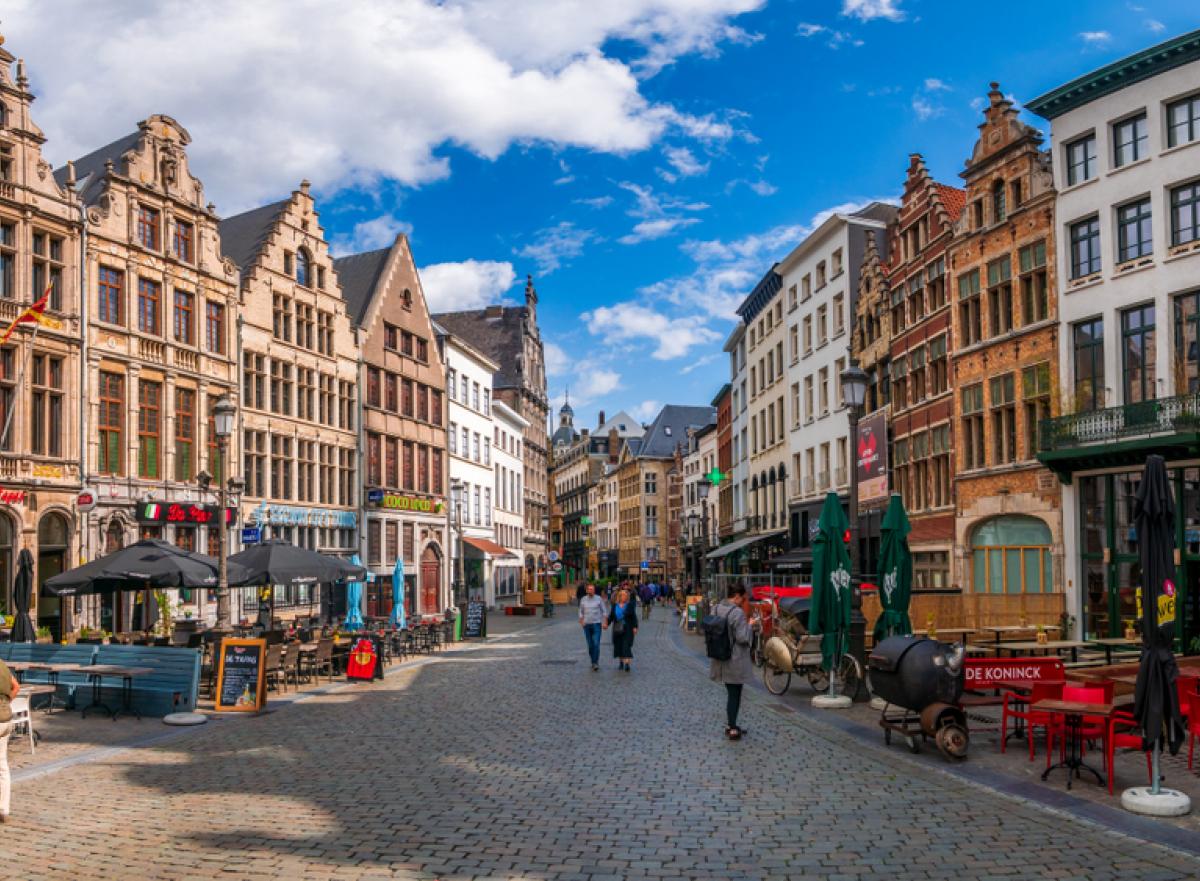 Your campus
You will study at our Groenplaats campus in the heart of historic Antwerp, overlooking the main square and cathedral and a short stroll to the shopping precinct on the Meir.
Your lectures will mostly take place here within the faculty of Management & Information Technology. Drop into the library for some quiet study time, get together for group work in The View, or relax in the cafeteria and catch-up with course mates.
The campus enjoys excellent bus and tram links, so getting around the city is straightforward. And with Antwerpen-Centraal station just a short ride away, it means Brussels, Amsterdam, Paris and London are all within easy reach.  
Campus Groenplaats
Nationalestraat 5
2000 ANTWERP
+32 3 613 16 00
info.mit@kdg.be
After graduation
Work or study?
This new programme is modelled on our existing Dutch-language bachelor's degree which has an impressive employment record among graduates. Experience has taught us that our graduate profile is actively sought after by recruiters.
Our programme is designed to get you ready for work. We help to train you as a full stack developer who can take on projects in artificial intelligence, data management, front end and back end. This skillset is sought by a wide range of sectors.
Or perhaps you want to continue your studies with a master's degree in computer science? Check back for future study option updates.
Practical information
Pre-arrival guide (visa, proof of solvency, accommodation, cost of living, insurance…)
Arrival guide (city registration, welcoming days, student services…)

Chat with a student
Get an insider's take on student life. Chat with Vasilena about the reality of being a student in Antwerp.
Join us at open day
Open Day 6 September 2022
Tuersday September 6 from 16:00 till 20:00