Specialisation of the professional bachelor of International Business Management
One dynamic programme that immerses you in international business and the global supply chain.
Develop the skills to operate in this agile business sector – keeping goods flowing and meeting customer demands in a post-pandemic world.
Learn how to drive sustainability in the supply chain – making it greener, leaner and more efficient.
Benefit from practice-based learning in Antwerp – Europe's second largest port and a logistics hub.
Network, network, network! Allow us to introduce you to our industry contacts built up over the past 50 years.
Prepare yourself for the workplace with a three-month international internship in a logistics company.
What does this course contain?
Specialise in the world of supply chain and get a thorough grounding in all aspects of International Business Management.
Year 1
The first bachelor year is the same for all specialisations: Global Business, Global Supply Chain Management and International Entrepreneurship.
Learn from expert lecturers about international finance and economics, sales, marketing, law and management.
Learn cross-cultural communication and get your first practical taste of the supply chain in our logistics lab – work in a team to map out a viable supply chain from source to customer.
Company visits are arranged for you to see business in action in the international logistics hub that is Antwerp.
Get a close-up view of the global supply chain through your international trade, transport and logistics course.
Year 2
Build on your knowledge of international business practices focusing on strategy, innovation, import and export management and international law.
Research a company and learn how to write a well thought-out proposal for your company project.
Dive into your specialisation via geopolitics, data analytics, customs procedures, and transport management.
Year 3
Complete your all-round business training with a look at international trade and risk, as well as understanding the importance of ethics.
Specialise in maritime and port logistics, which Antwerp is famous for, and learn about warehouse management and business process management.
Then, it's your time to shine! Plan and choose your 13 week internship with an international logistics company. Apply your skills in a real context whilst you continue learning on the job.
Write your company project linked to your internship company, proving you can provide a real logistical solution.
You're on the verge of an exciting career in Global Supply Chain Management.
Courses and credits
International Business Management courses
Building sustainable business
(
3 credits
)
Today's global societal and environmental challenges raise significant questions for companies and the way in which they operate. How would you respond to these dilemmas? This introspective look, helps you identify the type of organisation you would want to work for or start up. Once you have mastered the basic concepts of sustainable business, you will prepare and present a business plan that delivers on this relevant issue.
Business communication
(
3 credits
)
Presenting information and points of view in meetings and presentations is a daily reality of business life. Learn how to conduct effective meetings with careful preparation and an open mind to differences of opinion.
Business economics
(
5 credits
)
Global economic development affects the performance of governments, companies, organisations and individuals. Grasp key concepts and principles of economics, and those relating to business organisation and strategy.  You will draw on case studies and media reports to examine the extent to which external factors influence business decisions and performance. Find out how market mechanisms work, study factors which influence producers' pricing and output decisions, inter-dependence of households and businesses, strategies that drive business growth and theories of consumer behaviour. You will also examine the role of governments, concepts of labour and employment, money, capital and inflation and business cycles – essential for understanding different viewpoints.
Business reports and correspondence
(
3 credits
)
Information is everywhere. Finding and selecting valuable information in open source networks, libraries, magazines and reviews, requires a careful search technique and a critical mindset. We will work on these skills and help you master the art of writing efficient messages and reports – both for internal and external use.
Cross-cultural communication
(
3 credits
)
Learn how to communicate in a way that transcends borders, and leads to lasting working relationships. Find out how cultural differences impact on the way we communicate – both verbal and non-verbal – and investigate their influence on organisational structures and business operations.
Financial accounting
(
5 credits
)
The financial situation of every organisation is reflected in the accounts. Starting with the theoretical and legal framework of the International Financial Reporting System, you practise the basics of financial accounting – how to record inventory, sales and purchases, and ensure proper closing. Learn how to read financial reports such as balance sheets, income statements and cash flow statements.
ICT for calculations
(
3 credits
)
A flair for number-crunching and working with spreadsheets is essential in any organisation. Likewise, organising data, making (financial) calculations and analysing data are also sought-after skills in the labour market and areas you will develop throughout the module.
ICT for communication
(
3 credits
)
Provides a comprehensive overview of some of the most widely-used applications for communication in business: Microsoft Word, Microsoft PowerPoint and Microsoft Outlook. You will learn core techniques and best practices, and discover tools for information management, planning and cloud-computing.
International and European law
(
5 credits
)
As the influence of international and European law grows ever stronger, knowing its basic principles and where to go for legal and regulatory information will help you make the right choices in business. Develop your critical-thinking skills in regards to contracts and learn how to double-check legal issues.
International sales and marketing
(
5 credits
)
Learn how to market products and services across borders, in this growth area of international business. You will explore the pressures created by the pathways of internationalisation, as well as political and economic risk analysis, international planning, cultural distance, branding for international markets, international market entry, distribution strategies, and adaptation versus standardisation.
Personal development
(
6 credits
)
As a student, you learn to manage your studying, time, motivation and personal energy, and later as you prepare for a career in international business new skills come into play. This course enables you to work on core management strengths such as teamwork, intercultural awareness, scheduling and planning. Your mentor will also give you personal development coaching as part of your drive to become a skilled and motivated young professional.
Elective
(
3 credits
)
Choose one of the following electives to broaden your horizon:
Business in Latin-America
Doing Business in Latin America provides pointers to conceive of a highly diverse global region. It supplies the students with a background on economic histories, doctrines, policies and practices that continue to affect a number of modern Latin American States' business climates today. Additionally, the course covers data sources on governance, that students will find relevant to honing their analytical and critical reflection on States – not only from this Global region, and not only in the scope of this course, but possibly for ever after. 
Business in Europe
Immerse yourself in the mechanics of the European Union and its institutions as you explore the potential business opportunities and challenges in the region. You will focus on social and anthropological aspects and master cross-cultural communication, business etiquette, and the dos and don'ts of doing business within Europe's multicultural business landscape. Your classes will also draw on topical news stories that have an impact on business across the continent.
Business in the US
Gain valuable insight into one of the world's most expansive and lucrative markets, the United States of America.  You will learn more about the political, economic and social particularities of the US and how they relate to doing business in the country.  Furthermore, the class will contain practical do's and don'ts for conducting business in and with the USA. 
Business in emerging markets
Global business has been transforming significantly over the past decades. Next to the developed economies, new markets have gained momentum and are becoming an ever more important part of the world economy. This interactive course seeks to create a basic understanding what is happening in these so-called "emerging markets" and will at the same time help develop cultural sensitivity, and stimulate the appetite to explore. The course will visit China, India, as well as other very dynamic and interesting parts of the world. Different perspectives, including culture, entrepreneurship and innovation will be discussed and practiced.
English Upgrade B2+
If you received a B2 (IELTS 6.0) for your language screening test, it is mandatory that you take up this elective course. This will not only help you to keep up in our English-taught environment but will help you with your international business prospects through improved communication skills in English. It is also great preparation for the Road to IELTS course in the second year.
Leadership and People Management (B4E)
The Leadership and People Management course takes a two-fold approach to leadership practices and the different challenges of managing people in the multicultural and diverse workplace of the post-Covid world. Incorporating theoretical studies and  practical exercises, a mix between an academic approach and a business training, the course is structured around lectures, interactive sessions, workshops, individual and group presentations. Use will be made of case studies (Harvard Business Review), video and other material. Student work includes role plays, games, and concrete projects of varying degrees of difficulty. Students will study different areas within the three important building blocks in leadership and managing people.  

Psychological with a focus on the individual
Example themes such as: emotional intelligence, discovering value systems, self-limiting beliefs, self-awareness, self-discipline and self-motivation.
Social-psychological with a focus on the relational
Example themes such as: power and influence, motivation vs manipulation, empowerment and engagement, teamwork and communication skills.
Situational context with a focus on the organisation
Example themes such as: organisational design, organisational culture, challenges of a multicultural workplace, risk vs crisis management and geopolitical and economic challenges in the post-pandemic world.
Elective language (Dutch A1, Spanish A1, French B1, or other foreign language)
(
3 credits
)
A chance to broaden your language skills. Either choose from the following in-house courses:
Dutch (the local language here in Antwerp): elementary course (CEFR level A1)
French: elementary and intermediate courses (CEFR levels A1 & B1)
Spanish: elementary course (CEFR level A1)
Or submit a proposal to study another language, outside KdG.
Whichever option you decide upon, you will need to continue with that same language for the full 12 credits (in the second and third year of your study programme).
Native speakers cannot enrol on an elementary course in their own language. Also, students with a secondary school degree from Flanders who want to improve their French must choose the intermediate option.
Logistics lab
(
5 credits
)
Get your first practical taste of the supply chain. Team up to solve a case study as you begin to learn 'on the job'. We offer coaching sessions as a starting point for your investigations, but this is a group effort that will see you develop your research, project management and communication skills, together. You also visit a company with experience in this area. 
International trade, transport and logistics
(
5 credits
)
Get an overview of most common globalisation theories on defending open economies and removing trade barriers. Explore the opportunities, risks and threats as well as the roles of the intermediate parties. Take a close-up look at how the global supply chain works – in theory and practice. Learn about the types of cargo – container cargo, liquid bulk, dry bulk, breakbulk and ro-ro – and different transportation modes, their infrastructures, networks and flows. Discover logistics: the flow of goods, services, information and money between your customers, your own company and your suppliers. 
International Business Management courses
Team Development
(
6 credits
)
Discover what kind of team player you are, and how to perform at your peak within a team. Put into practice the skills learned in the Cross Cultural Communication module and apply them to real-life situations where cultural awareness, networking, teamwork and professionalism go hand in hand. Develop these critical skills by reflecting on your actions and behaviour.
English C1 road to IELTS
(
6 credits
)
In order to graduate, all students need to prove that their English-language proficiency is at least C1-level on the CEFR. This course prepares you for taking the IELTS – C1 General Test at the British Council in Brussels, or to do a similar test at KdG.
Import and export management
(
3 credits
)
Delve into the inner workings of international trade. Develop your knowledge of documents in international trade, compare and evaluate payments and financing techniques such as documentary credit arrangements, and learn how to apply Incoterms ® to international trade transactions.
International business law
(
5 credits
)
To succeed in the corporate world, you need a good understanding of the legislation that impacts on your business activities. Learn how to operate within a legal framework as you discover how to create legal ads, comply with competition rules, protect your intellectual property, and select the right contract for clients and contracting parties. You will also explore options for international mergers and acquisitions and learn how to process client data in line with privacy laws.
Innovation and change
(
3 credits
)
In our ever-changing world, companies need to react quickly to maintain their competitive edge. Get an insight into the models, tools and techniques used to successfully reshape an organisation to keep pace with global developments. Focus on the implications for individuals, teams and organisations and explore project management and organisational culture for ways to create sustainable change. 
Quantitative business techniques
(
5 credits
)
Calculations and projections are important tools in business management. Learn how to work with statistics, market data and mathematical functions to develop simulations and forecasts in this hands-on seminar.
Research and academic reporting
(
3 credits
)
Writing a bachelor thesis is challenging and this course will give you a head start. Settle on a topic you want to write about, develop a clear thesis statement, look up different types of sources and evaluate them, plan your work, structure your narrative, and fine tune your writing. The outcome is a well thought-through proposal for your thesis.
Elective language (Dutch elementary 2, Spanish elementary 2, French elementary 2, French intermediate 2 or other foreign language)
(
6 credits
)
Continue to build on last year's taster, as you dive into the detail of your chosen language.
Elective
(
3 credits
)
Choose one of the following electives to broaden your horizon:
International Business Practices
Tumultuous International Business times ahead.  China is getting strong enough to challenge the USA in economic hegemony, and the latter is no longer so sure about the "global rules" itself has helped to put in place. 
That means that you will enter the business world with the 3 largest economic blocks (the EU, The USA and China) singing a different tune.  How to navigate this new (and still shaping) international business world

?




The course tackles this in a very hands-on way.  It brings in guest speakers who have a broad experience in global business, but as a student you also get to go deep in certain area and translate that knowledge into a report and final presentation that then also brings your fellow students upto speed on your new insights.  Net a class to learn, to experience, but also to share & help others ahead.

   

Networking and Lobbying
It's hard to overrate the importance of networking and lobbying in the business world. Yet there's a lot of confusion regarding the terminology and practices. How do you start, what is a good network? Is lobbying really the shady, backdoor influencing or is it about politics, numbers, arguments? How useful are your soft skills, and how can you remediate?
Networking is about giving and taking and seeing opportunities in connections. In this course unit, we'll guide you through the world of networking and lobbying, and teach you how to become better at it, without losing your personality or integrity. 
The course unit applies not only to digital reality but also to the real world. Don't be afraid to get drawn out of your comfort zone.
Sales Strategy
A strong sales team is key to developing new and existing client relationships while simultaneously boosting company profits. Learn how to build a loyal client base as you delve into the principles of marketing, sales automation and upgrade strategies. Our practical exercises will develop your team management skills and negotiation tactics ready for the workplace. 
Global customs procedures
(
3 credits
)
Get an insight into the SAFE-framework of the World Customs Organisation (WCO) and see how this impacts global customs procedures.  Dig deeper into the world of customs and understand how it shapes international trade policy and what it means for economic operators.
Data analytics in supply chain
(
3 credits
)
Learn how to gather data from different sources and input them in Excel, so information is configured to meet user needs within a logistics company.
Supply Chain Management
(
5 credits
)
You cover the fundamentals of logistics, purchasing and sourcing, planning and forecasting, green logistics and production logistics.
We delve into purchasing strategies, vendor rating, stock management, demand management, last mile logistics, bill of materials, bill of labour, customer service, push/pull planning, KPIs…
Learn how to preserve cash, optimise inventory, manage relationships with suppliers and improve supply chain efficiency. Structure logistical and supply chain problems by using operational tools, and address issues such as cost reduction and service enhancement.
Green and reverse logistics are hot topics at the moment. Find out how you can minimise the supply chain's ecological footprint through recycling, returns management, reduced packaging.
And get interactive with production logistics, as you team up to take part in a simulation game.
Geopolitics
(
3 credits
)
This is where geography meets strategy. Explore the impact of geopolitics on globalized business and supply chains. What interests (e.a. natural resources) determine global politics? What are the current and  future geopolitical challenges of an international supply chain and what consequences will they have on global business?
Understanding and facing these challenges is key to supply chain flows.
Learn how to measure potential factors such as political instability, societal polarisation and environmental concerns.
Transport Management
(
3 credits
)
Transport management is a key issue in the supply chain process. You study the technical and operational characteristics of the different modes of transport and the modal competition. Find out how to organise transportation efficiently as well as meeting the challenges in terms of price, safety, speed and sustainability. Get an insight into the global flow of goods from suppliers to customers.
Air Freight Logistics
(
3 credits
)
Air Freight Logistics is a key part of the Global Transport Process. You get an overview of the different aspects of airfreight end the role in supply chain management. Topics include the major air transport routes, airports, airfreight load devices, airfreight cost calculation, innovation and shipping documents. You will get insight into pharma and healthcare as key user of air freight.
International Business Management courses
Business ethics
(
3 credits
)
Is it all about the money? Or is there more to it? Take a look at authentic business cases from various standpoints and analyse them. Set up debates, present your reasoned arguments, and see if there is more to business than just going for a quick win…
International trade and risk management
(
5 credits
)
Cross border trade and global procurement is long established. Learn to assess the risks involved by simulating an import or export transaction. Carry out an in-depth analysis of a product, its market appeal, the country where it was manufactured and the supply chain. Check the legal obligations under your sale contract such as delivery, customs clearance and payment. Draft the necessary contracts for sale, finance, transport and insurance, and have a sound grasp of the legal ramifications in the event of a breach. 
Major electives
(
5 credits
)
Choose one from the following options:
International corporate strategy
A sound corporate strategy helps a business stay focused in uncertain economic times. Formulating a sound strategy requires a thorough understanding of the environment in which a company operates, its vision, its unique set of competences and resources and aims to set the direction for its future growth. Focus on becoming a strategic thinker – a key skill for any manager, corporate executive or entrepreneur – and get to evaluate and critically analyse a global company's strategies. You will study the market risks and opportunities, discover how corporate strategy evolves in response to market conditions, and understand the process of strategy implementation in order to gain a sustainable competitive advantage.
Green Deal Policymaking
Learn how the Green Deal comes into effect and how businesses need to adapt to this revolutionary shift towards a circular economy in a group of students consisting of students of Antwerp and students of Bern (University of Applied Sciences). We will visit the European Institutions, businesses and Chambers of Commerce and conduct surveys in businesses to deduct comparisons between both countries. But most important, you will have an Erasmus experience @home as you will work in an international team.
Minor electives
(
3 credits
)
Choose one from the following choices:
Business Modelling
Building a venture from an idea requires the founders to engage in more than planning. They will generate a business model and modify it to discover, validate and create their customers. It involves testing the hypotheses about market segments to gain insight into the link between a value proposition and revenue. The main focus of the course is examining that link to build a viable business. You will be presented with the core competences of a partner firm and will create a new and innovative business model based on that.
The course unit provides real-world, hands-on learning while talking to customers, partners, competitors, encountering the chaos and uncertainty of a startup or growing business.
As a team, you will learn to turn a great idea into a great venture and finally present it to the partner firm.
DXC Masterclass
A workshop run by a leading independent, end-to-end IT services company.  Over six sessions, you address digital technologies from a business perspective. You work on a real case study for a client, providing business solutions, which you present at the end of the workshop.
CSR business game
In Digital Marketing you will get to know the different Digital Marketing channels. We start by creating a simple concept website/webshop in Wordpress for an existing company, a small start-up, or for your own business idea. Next, we will see how to lead visitors to your business with different channels and techniques: content marketing, SEO, SEA (Google Ads), Social Media, E-mail (Mailchimp) … Google Analytics will also be introduced, so you can track your marketing actions. You will describe your digital marketing strategy for the company in a paper. At the end of the course, we will visit the Google digital atelier in Brussels.

Third-party projectWith the IBM3 Minor Elective Third-Party Project, you are given the opportunity to broaden your horizon and attend a summer school, bootcamp, case competition ... outside of IBM and have this validated within your IBM degree programme.

Warehouse Design (Specialisation elective)
Think about the structural design and capacity of a warehouse. First, identify the activities that take place there, the different product characteristics and other key features before getting to work on warehouse design.

Corporate Reputation Management
Corporate Reputation and the management of it is more than ever before a top priority for CEO's across the globe. And in the meantime, it's what makes them most afraid. Reputation is amorphous and ambiguous and that's what makes it so challenging. Why is reputation so important? How do companies work on this area? What is the impact on company's performance, employee retention, long term viability? Once you understand the principles and apply it your own case you could start to make a true difference in business life.

Digitization and Blockchain
Company project in supply chain
(
8 credits
)
Choose a topic closely linked to your internship company, and demonstrate how you can resolve a real logistical problem that they face, effectively. Compile a management survey and write a report. You are coached throughout by a mentor. And by the end of the process, you are ready to present your findings to a jury panel.
International internship: supply chain management
(
20 credits
)
Spend your internship working for an international company in a supply chain management role. You develop specific skills related to the particular field as well as a variety of soft skills – communication skills, personal effectiveness and creative problem-solving skills. You will get a real insight into the world of work, allowing you to build on your theoretical knowledge while developing your practical skills.
Maritime and port logistics
(
4 credits
)
Find out how freight is transported by sea and the role of ports in this exchange. You get an overview of ports and their role in supply chain management. Topics include the types of ports, port infrastructure worldwide, the variety of goods and ship types, shipping routes, maritime service providers, the role of terminals in supply chain and hinterland connections, containerisation and global supply chains, and shipping documents. You will get an insight into maritime and port logistics innovations.
Warehouse Management
(
4 credits
)
As global supply chains become more integrated, the need for well-organised warehouses increases. We see this in the rise of huge smart-tech warehouses.
Find out about the different warehouse processes and how to optimise them. Explore warehouse storage systems, handling equipment, lay-out planning, order-picking and packing, as well as new trends in distribution and return logistics.  
Delve into the key challenges in warehouse management, putaway strategies, different order picking strategies and methods, and warehouse handling equipment.
Business process management
(
5 credits
)
Delve into core processes used by many organisations – forecasting, sales&marketing, production planning,  procurement and distribution (warehouse and transport) all part of the S&OP process. Familiarise yourself with SAP as a way to manage these business processes.
Elective language (Dutch elementary 3, Spanish elementary 3, French elementary 3, French intermediate 3 or other foreign language)
(
3 credits
)
Continue to build on last year's taster, as you dive into the detail of your chosen language.
What does your schedule look like?
The Welcoming days are from 13 to 16 September 2023 and attendance of these is essential.
Your classes will then start from Monday, 18 September.
You commit to a fulltime study program over three years. This means that you are advised to allocate up to 40 hours per week to your study, of which approx. 20-24 hours are classes.
Lessons will be on campus so you can benefit from close interaction with your lecturers and colleagues.
Normally you can expect 1 to 1.5 day per week free which allows you to work on group projects with your colleagues.
Each week is varied combining a mix of lectures, seminars, team assignments and self-study. Have a look here at the  class schedule and an example course timetable
Have a look at the class schedule and example course timetable
Improve your language skills
Take advantage of our international study environment to improve your language skills.
Boost your personal development and improve your career prospects by studying any language of your choice.
Dutch, French and Spanish are all offered in-house, but you can also elect to follow another language course with an external provider. The choice is yours.
Think of the opportunities for your future with some extra language skills under your belt, plus the confidence this will give you; broader horizons - perfect for the world of international business management.
What do you need?
You need an up-to-date laptop to take notes, work on projects, take exams ...
Wifi specifications: a device with an 'A' rating (e.g. Wifi A, Wireless A, Wifi AC, Wireless AC)
Can I use a Mac? We strongly advise against using a Mac since recent versions do not allow for the installation of Windows via Bootcamp – a requirement for your exams.
Can I use a Chromebook? We also advice against using Chromebook. As of september Office will no longer be supported by Chromebook.
Free software? You get Windows and Office 365 for free as a student of this programme.
Requirements
This course is taught in English. Good proficiency in English is required.
You hold a secondary education certificate that grants access to a comparable higher education degree programme in the country it was granted.
No interview or additional tests are required for admission to KdG.
There is currently no restriction on the number of places
Our programme requires curiosity, a strong will to use all of your talents, a readiness to explore, to learn and to perform in an international team.
Your profile
You have an analytical mind – an eye for detail.
You're intrigued by planning and timing – how do modern businesses deliver what we need when we need it?
Innovation. That's your thing: cutting-edge solutions to new challenges.
You learn best by doing – apply that theory for real!
Sustainability matters to you – this is your future.
You want to make a positive difference in a fast-moving, booming sector.
Study in Antwerp, Belgium
Home to more than 44.000 students and around 170 nationalities.
Antwerp is a safe, diverse and welcoming international student city.
Situated on the River Scheldt, this mini metropolis is a gateway to the world.
A perfectly located economic hub steeped in history, and always evolving.
Brussels, Amsterdam, Paris and London all within easy reach.
Atypical Antwerp, the movie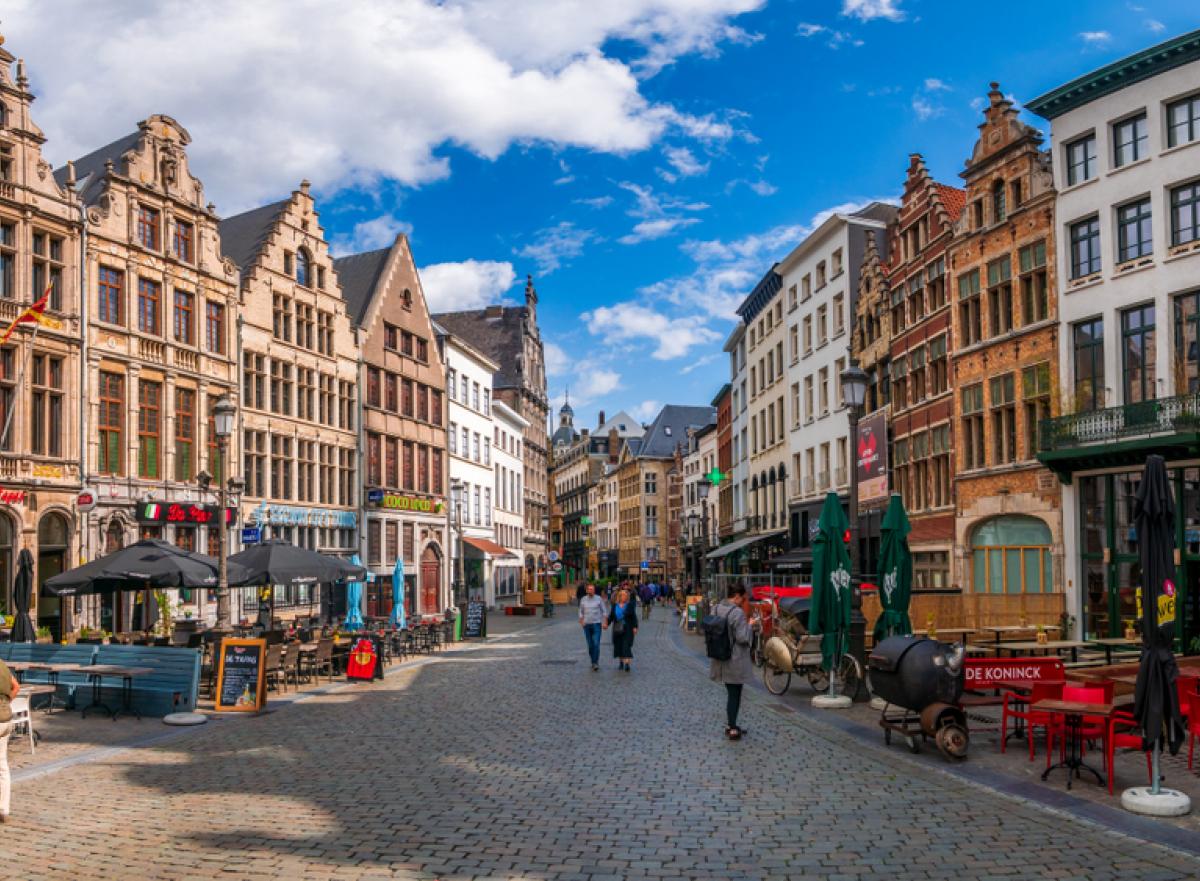 Your campus
You will study at our Groenplaats campus in the heart of historic Antwerp, overlooking the main square and cathedral and a short stroll to the shopping precinct on the Meir.
Your lectures will mostly take place here within the faculty of Management & Information Technology. Drop into the library for some quiet study time, get together for group work in The View, or relax in the cafeteria and catch-up with course mates.
The campus enjoys excellent bus and tram links, so getting around the city is straightforward. And with Antwerpen-Centraal station just a short ride away, it means Brussels, Amsterdam, Paris and London are all within easy reach.  
Campus Groenplaats
Nationalestraat 5
2000 ANTWERP
+32 3 613 16 00
info.mit@kdg.be
After graduation
The world of supply chain and Antwerp are perfectly linked. As the second biggest port in Europe and a hub of multinational commercial activity, Antwerp is a gateway to your international career.
Typical career routes for graduates are in procurement, logistics, supply chain strategy and planning, shipping and operations management.
As global demands constantly change in response to economic, environmental and technological challenges, the significance of supply chain management increases.
It's a booming sector with global opportunities.
Being able to learn in one of the biggest port cities in Europe has allowed me to learn from experts in the field that I otherwise would not have had access to if I studied elsewhere.
Phatsimo
Student Global Supply Chain Management
There are huge opportunities to make a career in an industry that is globally connected and requires social competencies and cultural awareness. With good training and the right attitude, the sky is your limit.
Jens Roemer
Regional Managing Director, Hartrodt logistics
Practical information
Pre-arrival guide (visa, proof of solvency, accommodation, cost of living, insurance…)
Arrival guide (city registration, welcoming days, student services…)
Quality education you can count on
As a KdG student you can be sure of a high-quality education at our dynamic university.
Your teachers are experts in their field, passionate about helping you to develop your potential.
KdG is an accredited university: quality guaranteed on an international level.
A detailed management system is in place to systematically review every degree programme.
KdG's goal is sustainable development: of students, staff and society. We consistently strive to get the best out of everyone.
And by so doing, we help to shape a better future.