Specialisation of the professional bachelor of International Business Management
A creative, hands-on programme for budding entrepreneurs set on launching a business venture in international markets.
Hone your business acumen mastering the key principles of international business as you build an agile, viable enterprise.
Get a 360° view of start-up life with a 7-week internship in an up-and-coming company.
Surround yourself in ideas. Benefit from practice-based learning in Antwerp – an innovative start-up hub for like-minded entrepreneurs.
Draw on the expertise of the Flemish Agency for Innovation and Entrepreneurship and our Entrepreneurs' Centre.
Become your own boss. Turn your concept into a start-up business during your final-year internship.
What does this course contain?
Get a foundation in all aspects of International Business Management, and be guided towards your ambition – to launch your own start-up.
Year 1
The first bachelor year is the same for all specialisations: Global Business, Global Supply Chain Management and International Entrepreneurship.
Be coached by experts and work with likeminded entrepreneurs from all over the world as you learn the fundamentals of business: cross-cultural communication; finance and economics; sales, marketing and international trade and law.
Develop your entrepreneurial mindset meeting the owners of existing start-up businesses.
Begin to transform your ideas into a solid business plan.
Year 2
Further expand your expertise as you focus on the essentials of strategy, quantitative techniques, import and export, and teamwork.
Learn how to create and maintain a strong brand, validate new concepts and successfully scale up your business.
Work for a company on an exciting 7 week internship where you participate in a real new venture.
Year 3
Complete your all-round business training with a look at ethics, international trade and the importance of risk management.
Combine the practicalities of starting your business with design thinking, networking and negotiating, digital governance and writing an implementation plan.
Bring all your knowledge and passion together for a graduation project; the creation of your start-up business, a fully validated business model complete with market-entry strategy.
Now you're ready to go – an international entrepreneur.
Courses and credits
International Business Management courses
Building sustainable business
(
3 credits
)
Today's global societal and environmental challenges raise significant questions for companies and the way in which they operate. How would you respond to these dilemmas? This inside view helps you to identify the type of organization you would want to work for and how to manage your own start-up. Once you have mastered the basic concepts of sustainable business, you will prepare and present a business plan that delivers on this relevant issue.
Business communication
(
3 credits
)
Presenting information and points of view in meetings and presentations is a daily reality of business life. Learn how to conduct effective meetings with careful preparation and an open mind to differences of opinion.
Business economics
(
5 credits
)
Global economic development affects the performance of governments, companies, organisations and individuals. Grasp key concepts and principles of economics, and those relating to business organisation and strategy.  You will draw on case studies and media reports to examine the extent to which external factors influence business decisions and performance. Find out how market mechanisms work, study factors which influence producers' pricing and output decisions, inter-dependence of households and businesses, strategies that drive business growth and theories of consumer behaviour. You will also examine the role of governments, concepts of labour and employment, money, capital and inflation and business cycles – essential for understanding different viewpoints.
Business reports and correspondence
(
3 credits
)
Information is everywhere. Finding and selecting valuable information in open source networks, libraries, magazines and reviews, requires a careful search technique and a critical mindset. We will work on these skills and help you master the art of writing efficient messages and reports – both for internal and external use.
Cross-cultural communication
(
3 credits
)
Learn how to communicate in a way that transcends borders, and leads to lasting working relationships. Find out how cultural differences impact on the way we communicate – both verbal and non-verbal – and investigate their influence on organisational structures and business operations.
Financial accounting
(
5 credits
)
The financial situation of every organisation is reflected in the accounts. Starting with the theoretical and legal framework of the International Financial Reporting System, you practise the basics of financial accounting – how to record inventory, sales and purchases, and ensure proper closing. Learn how to read financial reports such as balance sheets, income statements and cash flow statements.
ICT for calculations
(
3 credits
)
A flair for number-crunching and working with spreadsheets is essential in any organisation. Likewise, organising data, making (financial) calculations and analysing data are also sought-after skills in the labour market and areas you will develop throughout the module.
ICT for communication
(
3 credits
)
Provides a comprehensive overview of some of the most widely-used applications for communication in business: Microsoft Word, Microsoft PowerPoint and Microsoft Outlook. You will learn core techniques and best practices, and discover tools for information management, planning and cloud-computing.
International and European law
(
5 credits
)
As the influence of international and European law grows ever stronger, knowing its basic principles and where to go for legal and regulatory information will help you make the right choices in business. Develop your critical-thinking skills in regards to contracts and learn how to double-check legal issues.
International sales and marketing
(
5 credits
)
Learn how to market products and services across borders, in this growth area of international business. You will explore the pressures created by the pathways of internationalisation, as well as political and economic risk analysis, international planning, cultural distance, branding for international markets, international market entry, distribution strategies, and adaptation versus standardisation.
International trade, transport and logistics
(
5 credits
)
Get an overview of most common globalisation theories on defending open economies and removing trade barriers. You will explore the opportunities, risks and threats as well as the roles of the intermediate parties. Take a close-up look at how the global supply chain works – in theory and practice. You will cover purchasing, materials management, inventory control, warehousing, transport and distribution, as well as reverse logistics and manufacturing's response to environmental concerns.
Personal development and management skills
(
6 credits
)
As a student, you learn to manage your studying, time, motivation and personal energy, and later as you prepare for a career in international business new skills come into play. This course enables you to work on core management strengths such as teamwork, intercultural awareness, scheduling and planning. Your mentor will also give you personal development coaching as part of your drive to become a skilled and motivated young professional.
Elective
(
3 credits
)
Choose one of the following electives to broaden your horizon:
Business in Latin-America
Doing Business in Latin America provides pointers to conceive of a highly diverse global region. It supplies the students with a background on economic histories, doctrines, policies and practices that continue to affect a number of modern Latin American States' business climates today. Additionally, the course covers data sources on governance, that students will find relevant to honing their analytical and critical reflection on States – not only from this Global region, and not only in the scope of this course, but possibly for ever after. 
Immerse yourself in the mechanics of the European Union and its institutions as you explore the potential business opportunities and challenges in the region. You will focus on social and anthropological aspects and master cross-cultural communication, business etiquette, and the dos and don'ts of doing business within Europe's multicultural business landscape. Your classes will also draw on topical news stories that have an impact on business across the continent.
​​​​​​​Gain valuable insight into one of the world's most expansive and lucrative markets, the United States of America.  You will learn more about the political, economic and social particularities of the US and how they relate to doing business in the country.  Furthermore, the class will contain practical do's and don'ts for conducting business in and with the USA. 
If you had a B2 (IELTS 6.0) for your language screening test, you are strongly advised to take up this elective course. Brush up on those basic skills, so you keep up in this English-taught environment. It is also great preparation for the Road to IELTS course in the second year.
Leadership and People Management (B4E)
The Leadership and People Management course takes a two-fold approach to leadership practices and the different challenges of managing people in the multicultural and diverse workplace of the post-Covid world. Incorporating theoretical studies and  practical exercises, a mix between an academic approach and a business training, the course is structured around lectures, interactive sessions, workshops, individual and group presentations. Use will be made of case studies (Harvard Business Review), video and other material. Student work includes role plays, games, and concrete projects of varying degrees of difficulty. Students will study different areas within the three important building blocks in leadership and managing people.  
Psychological with a focus on the individual
Example themes such as: emotional intelligence, discovering value systems, self-limiting beliefs, self-awareness, self-discipline and self-motivation.
Social-psychological with a focus on the relational
Example themes such as: power and influence, motivation vs manipulation, empowerment and engagement, teamwork and communication skills.
Situational context with a focus on the organisation
Example themes such as: organisational design, organisational culture, challenges of a multicultural workplace, risk vs crisis management and geopolitical and economic challenges in the post-pandemic world.
Elective language (Dutch elementary 1, Spanish elementary 1, French elementary 1, French intermediate 1 or other foreign language)
(
3 credits
)
A chance to broaden your language skills. Either choose from the following in-house courses:
Dutch (the local language here in Antwerp): elementary course (CEFR level A1)
French: elementary and intermediate courses (CEFR levels A1 & B1)
Spanish: elementary course (CEFR level A1)
Or submit a proposal to study another language, outside KdG.
Whichever option you decide upon, you will need to continue with that same language for the full 12 credits (in the second and third year of your study programme).
Native speakers cannot enrol on an elementary course in their own language. Also, students with a secondary school degree from Flanders who want to improve their French must choose the intermediate option.
International Entrepreneurship courses
Business lab International Entrepreneurship
(
5 credits
)
A chance to work in a diverse team of like-minded entrepreneurs. Apply your know-how, successfully transforming an idea into a real-life business plan. Take your concept and turn it into a viable venture, drawing on ICT and project management tools as you go.
International Business Management courses
English C1 road to IELTS
(
6 credits
)
In order to graduate, all students need to prove that their English-language proficiency is at least C1-level on the CEFR. This course prepares you for taking the IELTS – C1 General Test at the British Council in Brussels, or to do a similar test at KdG.
Import and export management
(
3 credits
)
Delve into the inner workings of international trade. Develop your knowledge of documents in international trade, compare and evaluate payments and financing techniques such as documentary credit arrangements, and learn how to apply Incoterms ® to international trade transactions.
International business law
(
5 credits
)
To succeed in the corporate world, you need a good understanding of the legislation that impacts on your business activities. Learn how to operate within a legal framework as you discover how to create legal ads, comply with competition rules, protect your intellectual property, and select the right contract for clients and contracting parties. You will also explore options for international mergers and acquisitions and learn how to process client data in line with privacy laws.
Quantitative business techniques
(
5 credits
)
Calculations and projections are important tools in business management. Learn how to work with statistics, market data and mathematical functions to develop simulations and forecasts in this hands-on seminar.
Research and academic reporting
(
3 credits
)
During this course you get all the necessary insights to write a strong business plan. You learn how to formulate a research question and proposal, look up different types of sources and evaluate them, plan your work, structure your narrative, and finetune your writing. The outcome is a project plan and a foundation for your business plan.
Strategic and operational marketing
(
3 credits
)
Explore the role of strategical and operational marketing in today's world of global business. Get an insight into those all-important concepts and techniques, which enable today's managers to identify and capitalise on opportunities that arise. Find out how its benefits are increasingly sought-after by the public sector and other, not-for profit organisations.
Cross-cultural teamwork and development
(
4 credits
)
Discover what kind of team player you are, and how to perform at your peak within a team. Put into practice the skills learned in the Cross Cultural Communication module and apply them to real-life situations where cultural awareness, networking, teamwork and professionalism go hand in hand. Develop these critical skills by reflecting on your actions and behaviour.
Elective language (Dutch elementary 2, Spanish elementary 2, French elementary 2, French intermediate 2 or other foreign language)
(
6 credits
)
Continue to build on last year's taster, as you dive into the detail of your chosen language.
Elective
(
3 credits
)
Choose one of the following electives to broaden your horizon:
Human Resources Management
Find out how to attract the right talent, develop it as well as reward and retain staff – core aspects of any successful business. Get a strategic and transactional overview, learn how to apply HR frameworks and concepts to real-life examples, and create the right conditions for employees and managers to achieve company goals.
Storytelling as Business Tool (B4E)
Storytelling, it's all about communication, interaction and getting your idea across.

The difference between information and ideas
Key requirements
Story versus factual representation
Requirements to tell stories
CAST model 
Finetuning
Bringing it all together
If you want to communicate so that your ideas and messages stick, tell stories. Storytelling is not fluffy, it's about adding narrative structures, narrative elements to your content, to your texts. 
It's about shaping the story of your organisation, through stories of the past, the future, the successes and the failures. Adding a human touch, and shaping the tone of voice of your brand, your organisation. It's about communication without clutter, making yourself heard and remembered. 

International Business Practices
Tumultuous International Business times ahead.  China is getting strong enough to challenge the USA in economic hegemony, and the latter is no longer so sure about the "global rules" itself has helped to put in place.
That means that you will enter the business world with the 3 largest economic blocks (the EU, The USA and China) singing a different tune.  How to navigate this new (and still shaping) international business world ?
The course tackles this in a very hands-on way.  It brings in guest speakers who have a broad experience in global business, but as a student you also get to go deep in certain area and translate that knowledge into a report and final presentation that then also brings your fellow students upto speed on your new insights.  Net a class to learn, to experience, but also to share & help others ahead.
International Entrepreneurship courses
Brand reputation
(
5 credits
)
Become an expert in identifying the characteristics of a strong brand and apply your skills on cases where you show you can manage a brand yourself. Learn to network, create your brand, sell your idea and create buy-in.
Start-up strategy
(
3 credits
)
Choosing the right strategy is essential for your business to grow. You are trained to apply the right methodology to evaluate the factors most crucial for successful scaling.
International internship
(
11 credits
)
Immerse yourself in a new business venture, experiencing the ins and outs of start-up life firsthand. What better way to discover what type of entrepreneur you are? Get a taste of the different roles and responsibilities within a new and growing organisation, learning the ropes from like-minded entrepreneurs. It is a chance to broaden your international outlook abroad. 
Innovative entrepreneurship
(
3 credits
)
Learn to share ideas and apply brainstorming techniques. Grasp today's global challenges and reflect on how you as an entrepreneur can respond to them. Master how to validate new concepts before entering the market.
International Business Management courses
Business ethics
(
3 credits
)
Is it all about the money? Or is there more to it? Take a look at authentic business cases from various standpoints and analyse them. Set up debates, present your reasoned arguments, and see if there is more to business than just going for a quick win…
International trade and risk management
(
5 credits
)
Cross border trade and global procurement is long established. Learn to assess the risks involved by simulating an import or export transaction. Carry out an in-depth analysis of a product, its market appeal, the country where it was manufactured and the supply chain. Check the legal obligations under your sale contract such as delivery, customs clearance and payment. Draft the necessary contracts for sale, finance, transport and insurance, and have a sound grasp of the legal ramifications in the event of a breach. 
Elective language (Dutch elementary 3, Spanish elementary 3, French elementary 3, French intermediate 3 or other foreign language)
(
3 credits
)
Continue to build on last year's taster, as you dive into the detail of your chosen language.
International Entrepreneurship courses
Start-up practicalities
(
6 credits
)
In three modules, you get a package of all the practical, administrative and financial information you need to start a company.
Module 1: Legal frameworks
Module 2: Startup financials
Module 3: Starting up anywhere in the world
Company project
(
8 credits
)
Networking and negotiating
(
3 credits
)
An initiation in the art of networking and negotiating. You learn how to identify interesting network events, learn how to establish new connections and understand and apply negotiating principles in the purchasing and sales context.
Design thinking
(
4 credits
)
Build the foundations for your business using the design thinking framework. Explore market research practices, customer-centricity models and ideation techniques to validate your ideas with little risk and low investment.
Digital governance
(
3 credits
)
Bring structure to an organisation. In this course you get to know the different procedures and flows in a company and how to tie responsibilities to processes so we make sure you know how to lead the operational department.
Graduation project
(
25 credits
)
Start up your own international business with a potential to scale. Set up the foundations for your concept on the road to graduation and get the opportunity to work on your start-up during a whole semester. The outcome is a validated idea with a business model and market entry strategy that you can use to become the entrepreneur you aspire to be.
What does your schedule look like?
The Welcoming days are from 14 to 16 September 2022 and attendance of these is essential.
Your classes will then start from Monday, 19 September.
On average you will have 22 hours of lessons per week.
Lessons will be on campus so you can benefit from close interaction with your lecturers and colleagues.
Normally you can expect 1 to 1.5 day per week free which allows you to work on group projects with your colleagues.
Each week is varied combining a mix of lectures, seminars, team assignments and self-study. Have a look here at the  class schedule and an example course timetable
Have a look at the class schedule and example course timetable
Improve your language skills
Take advantage of our international study environment to improve your language skills.
Boost your personal development and improve your career prospects by studying any language of your choice.
Dutch, French and Spanish are all offered in-house, but you can also elect to follow another language course with an external provider. The choice is yours.
Think of the opportunities for your future with some extra language skills under your belt, plus the confidence this will give you; broader horizons - perfect for the world of international business management.
What do you need?
You need an up-to-date laptop to take notes, work on projects, take exams ...
Wifi specifications: a device with an 'A' rating (e.g. Wifi A, Wireless A, Wifi AC, Wireless AC)
Can I use a Mac? We strongly advise against using a Mac since recent versions do not allow for the installation of Windows via Bootcamp – a requirement for your exams.
Can I use a Chromebook? We also advice against using Chromebook. As of september Office will no longer be supported by Chromebook.
Free software? You get Windows and Office 365 for free as a student of this programme.
For whom?
Your profile
You want to start your own business. You have the drive. And plenty of it. You are creative, but you know it takes more than ideas to succeed. This is where your flair for business comes to the fore. You are always on the look-out for gaps in the market, ready to plug them. Prepared to put in the hours for market research? Yes! You are in it for the long haul. You lead by example and have the energy to face challenges and see off problems. The reward of being your own boss is worth it. We look forward to meeting you.
Requirements
This course is taught in English. Good proficiency in English is required.
You hold a secondary education certificate that grants access to a comparable higher education degree programme in the country it was granted.
Strongly motivated, open-minded and goal-driven students.
Our programme requires curiosity, a strong will to use all of your talents, a readiness to explore, to learn and to perform in an international team.
Study in Antwerp, Belgium
Home to more than 44.000 students and around 170 nationalities.
Antwerp is a safe, diverse and welcoming international student city.
Situated on the River Scheldt, this mini metropolis is a gateway to the world.
A perfectly located economic hub steeped in history, and always evolving.
Brussels, Amsterdam, Paris and London all within easy reach.
Atypical Antwerp, the movie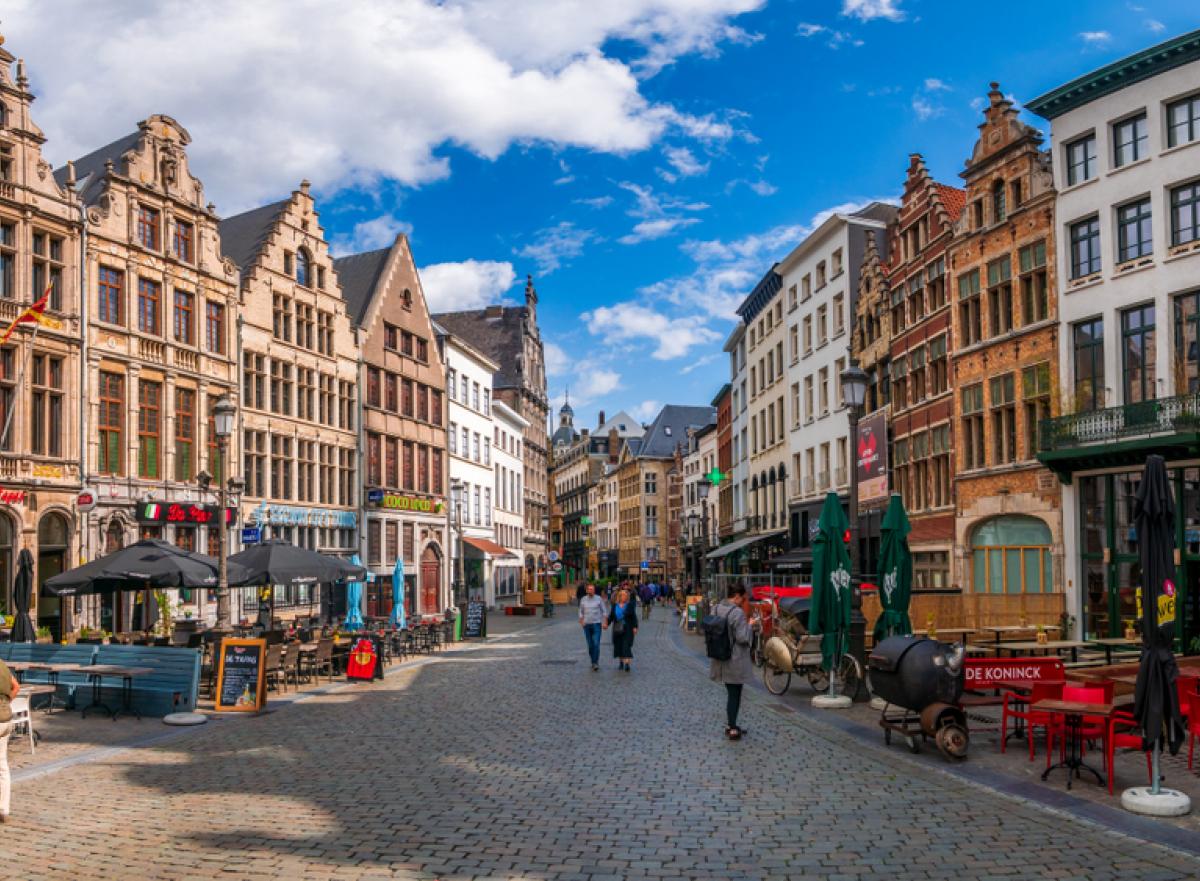 Your campus
You will study at our Groenplaats campus in the heart of historic Antwerp, overlooking the main square and cathedral and a short stroll to the shopping precinct on the Meir.
Your lectures will mostly take place here within the faculty of Management & Information Technology. Drop into the library for some quiet study time, get together for group work in The View, or relax in the cafeteria and catch-up with course mates.
The campus enjoys excellent bus and tram links, so getting around the city is straightforward. And with Antwerpen-Centraal station just a short ride away, it means Brussels, Amsterdam, Paris and London are all within easy reach.  
Campus Groenplaats
Nationalestraat 5
2000 ANTWERP
+32 3 613 16 00
info.mit@kdg.be
It is possible that you will have some lectures in our smaller campuses Pothoek and Stadswaag.
After graduation
We provide you with all the tools needed to embark on a bright future as a successful entrepreneur. However, we pride ourselves in providing a very comprehensive, challenging and thorough business training, making you an asset to any (international) company, not just your own.
Or perhaps you want to continue your studies? Then a master's degree in the field of business management is also an option. 
Practical information
Pre-arrival guide (visa, proof of solvency, accommodation, cost of living, insurance…)
Arrival guide (city registration, welcoming days, student services…)
Join us at open day
Open day 11 March 2023
Saturday 11 March 2023 from 10:00 till 17:00
Open day 22 April 2023
Saturday 22 April 2023 from 10:00 till 14:00
Open day 24 June 2023
Saturday 24 June 2023 from 10:00 till 14:00
Live lesson in International Business Management
Curious to see what a class is really like at KdG? Join us for a live lesson in International Business Management. 
These are real classes taught to real students. This way you immediately feel like a student for an hour.